This is an archived article and the information in the article may be outdated. Please look at the time stamp on the story to see when it was last updated.
Rapper Lil Twist, best known for his friendship with pop star Justin Bieber, pleaded no contest Wednesday to assault and other charges related to a assault that took place following a 2014 party at the Miracle Mile apartment of a Nickelodeon actor, officials said.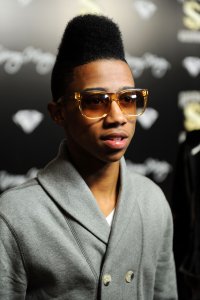 The 23-year-old rapper, whose real name is Christopher Lynn Moore, was sentenced to one year in jail and three years in formal probation, according to Deputy Los Angeles County District Attorney Simone Shay.
The Bieber pal slapped actor Christopher Massey in the face while wearing brass knuckles after Massey had asked him to leave the Nov. 7, 2014, house party at his apartment in the 300 block of Hauser Boulevard, the DA's office said.
Moore then returned half an hour later with four others who helped him jump and subdue Massey while Moore kicked him, according to prosecutors. TMZ reported that Moore also stole a Rolex from Massey, which is consistent with his charges.
He pleaded no contest to one count each of first-degree residential burglary, assault by means of force likely to produce great bodily injury, assault with a deadly weapon (brass knuckles), grand theft and first-degree robbery, authorities said.
After leaving court Wednesday, Moore tweeted the situation was "over but not really".
Just left court . TMZ bout to break the news I'm sho!! It's over but not really, GOD got me !! 🙌🏾

— Lil Twist #TeamTwist (@LilTwist) November 30, 2016
Moore is scheduled to turn himself in Feb. 3.
It is not his first run-in with the law. In July 2013, he was arrested on suspicion of DUI while driving a chrome Fisker Bieber owns.
Moore has also been accused by residents of The Oaks gated development in Calabasas — where Bieber owns a home — of creating a nuisance and speeding around the neighborhood.