This is an archived article and the information in the article may be outdated. Please look at the time stamp on the story to see when it was last updated.
A couple evading Orange County police during a pursuit in Tustin on Wednesday crashed into many other vehicles before being apprehended after hitting a dead end, officers said.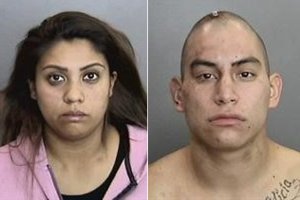 Officers were following up on an assault with a deadly weapon incident that occurred Nov. 28 at the intersection of Rose and Sycamore streets in Anaheim, after which one suspect drove away from the crime scene while the other fired a gun into a crowd of witnesses, according to Anaheim Police Officer Daron Wyatt. The couple wanted in connection with the crime was arrested Wednesday following a chaotic pursuit.
The suspects were identified as 21-year-old Santa Ana resident Crystal Rincon, who drove the car, and her boyfriend 24-year-old Anaheim resident Juan Monzon, who is believed to have fired the gun, Wyatt said. The victim of the assault fled the scene and has not been identified, authorities said.
Monzon is accused of using a metal rod to assault someone in the Nov. 28 incident, police said, adding that no injuries were reported by the gunfire. On Wednesday, Anaheim investigators were conducting surveillance at Rincon's home in the 1200 block of South Standard Avenue in Santa Ana when they saw her return with Monzon in the passenger seat, but the couple immediately drove away, according to a department press release.
Police would later discover there were also two children in the backseat.
Undercover units attempted to pull over the suspects but they evaded officers, leading to the pursuit around 4 p.m. Marked Tustin police cars eventually joined the pursuit, according to Lt. Robert Wright of the Tustin Police Department.
During the pursuit, the suspects became stuck in traffic and switched places, with Monzon moving to the driver's seat and evaded police by driving northbound in the southbound lanes of Red Hill Avenue, officers said. Police attempted to block the car in with their vehicles, but Monzon was able to make room to escape by repeated ramming them, Wyatt said.
Then, near the intersection of Red Hill Avenue and El Camino Real, Monzon hit another vehicle and rolled over onto the roof of that car before landing onto his tires and continuing to drive, according to officials.
"That is amazing. You usually don't see something that extravagant happening. We were kind of astonished too that the car continued to drive and that the suspect still maintained control of the car," said Wright.
Monzon also threw a handgun from the vehicle during the pursuit, but it was later recovered, Wyatt said.
Monzon and Rincon were taken into custody following another crash at Andrews Street and Estero Circle, a dead-end street in Tustin. Officers then discovered the two 4-year-old girls who were in the backseat during the pursuit.
The girls, believed to be children of a relative of Rincon, suffered minor injuries and were released to their mother, Wyatt said.
Rincon and Monzon both received medical clearance at Orange County Global Medical Center before being booked on attempted murder, assault with a firearm, child endangerment, felony evading, firearms charges and gang enhancements. Their bail is currently set at $500,000, but authorities said they would be seeking a bail enhancement.