This is an archived article and the information in the article may be outdated. Please look at the time stamp on the story to see when it was last updated.
Robert Durst told Los Angeles prosecutors in an interview last year that he was high on methamphetamines during portions of his infamous interview in the 2015 HBO miniseries "The Jinx," according to court papers released Friday.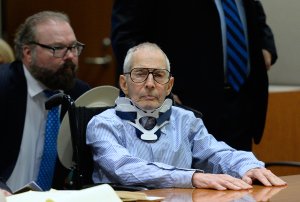 Sitting in a New Orleans jail, Durst agreed to a nearly three-hour interview with prosecutors on the morning after his March 14, 2015, arrest and said he "had to be … swooped" and "speeding" during some of the more than 20 hours of interviews he gave during the filming of "The Jinx."
"I was on meth, I was on meth the whole time. And, when I looked at the little pieces of it, I was going like this and like that. And it was — and it should have been obvious," Durst said, according to a transcript filed in Los Angeles County Superior Court and obtained by The Times.
The revelations come as Durst awaits what is expected to be a sensational murder trial, with prosecutors accusing him in the 2000 slaying of his friend and writer Susan Berman. 
Click here to read the full story on LATimes.com.