EIN Presswire | Newsmatics
Aerodyne Measure/Group awarded FAA Waiver for BVLOS Inspections with Iris Automation's Casia G Detect and Alert Solution
News provided by
EIN Presswire
Jun 30, 2023, 4:19 PM ET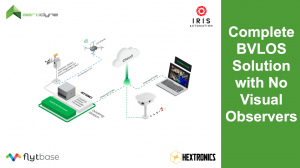 Complete BVLOS Solution with No Visual Observers
Casia G preventing airborne collisions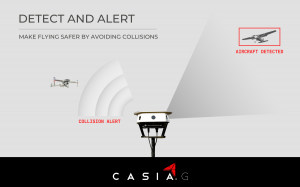 Casia G - Ground Based Detect and Alert
Fast, cost-effective inspections of P&G Lima, Ohio manufacturing plant
With this waiver we can really optimize even more. In both efficiency and cost, this helps cover more area, faster and at a lower cost.""
— Scott Floyd, Drone Program Manager, P&G
LIMA, OHIO, UNITED STATES, June 30, 2023/
EINPresswire.com
/ --
Aerodyne
, a drone enterprise solutions provider, has secured a waiver to part 107.31 using
Iris Automation
's ground-based
Casia G
detect and alert (DAA) solution, on behalf of P&G in Lima, Ohio. The waiver enables BVLOS operations without the use of visual observers or ground-based infrastructure shielding the operational area.
P&G's manufacturing plant in Lima is one of its largest in the US, dedicated to the production of fabric care detergents, including liquid fabric enhancers and perfume products. It is a controlled area requiring multiple daily perimeter inspections for security. Drone operations also enable P&G to track freight trains and trucks arriving with raw materials, enabling more effective production.
Drone response times are considerably faster than ground patrols, covering the entire plant area more efficiently and allowing a greater number of daily inspections. The service is also considerably less expensive.
Aerodyne has been working with P&G since Summer 2022 to provide drone services, but until now required operations to remain within visual line of sight of a human visual observer (VO).
Scott Floyd, Drone Program Manager, P&G
"We've already seen the benefits a drone service has brought to patrols, but with this waiver we can really optimize it even more. In both efficiency and cost, this helps cover more area, faster and at a lower cost."
Quote from Harjeet Johal, CEO, Aerodyne Measure
"Working with P&G over the years to develop our drone operations has been a true partnership that has really explored the benefits of best practices around drone operations. Bringing Iris Automation's Casia G into the mix really allows us to take it to the next level, providing a cost effective, scalable solution."
Casia G is a ground-based air surveillance system which creates a volume of monitored airspace for safe operation, removing the requirement for individual VOs for each drone operation. BVLOS operations are otherwise restricted to low altitudes or require VOs, on site. This limits the potential of the drones to be used for remote, automated operations, and can make UAS operations cumbersome, expensive, slow, and sometimes even dangerous for the drone operators and VOs.
Casia G can be installed in any location with a clear view of the skyline, such as rooftops, water or cell towers, without requiring any integration onto the drone. It alerts the remote pilot to any airborne intruder presenting a collision risk, who can then command the drone to move to a safe zone. An automated system such as Casia G also offers a superior level of observation to humans. It does not get distracted or require breaks and is not impacted by hot or cold weather. Multiple Casia G nodes can be deployed to cover any sized operational area, creating a network of safe airspace for operating multiple drones from multiple launch points, all from one centralized management point.
Quote from Jon Damush, CEO, Iris Automation
"The economic promise of drones is that aerial operations can be performed at much lower prices than with crewed aircraft. Aerodyne and P&G understand this, but being forced to have humans on site breaks that promise. Mitigating the risk of mid-air collisions has long been one of the key requirements from regulators around the world, and Casia G was designed to provide exactly the right level of risk mitigation but at a price point that is in line with the business case for the use of the drone in the first place. Approvals like this one show that the regulator agrees and we look forward to enabling many more end users to achieve 'true' BVLOS operations."
Iris Automation's Casia offerings also include Casia X for airborne solutions.
About Aerodyne Group
Aerodyne is a DT3 (drone technology, data technology & digital transformation) enterprise solutions provider, leading the global tech curve in the use of drone data and AI-powered analytics to resolve complex industrial challenges, enabling organizations to rapidly scale, digitally transform,
operate optimally and increase productivity. www.aerodyne.group
About Iris Automation
Iris Automation is dedicated to creating an aviation environment where no two aircraft ever collide in mid-air. We leverage innovative AI-based vision technology that enables uncrewed and crewed aircraft to mitigate the risk of airborne collisions - vital for safe, scalable, and efficient operations across countless industries. Iris' onboard and ground-based Casia systems give operators the situational awareness and automation needed to safely navigate an increasingly complex and congested airspace. We work closely with civil aviation authorities globally as they implement regulatory frameworks to advance safety and efficiency in aviation.
www.irisonboard.com
Contacts:
Harjeet Johal
Aerodyne Group
hjohal@aerodyne.group
Jason Hardy-Smith
Iris Automation
+1 650-761-2195
email us here
NOTE: This content is not written by or endorsed by "KTLA", its advertisers, or Nexstar Media Inc.
For inquiries or corrections to Press Releases, please reach out to EIN Presswire.