EIN Presswire | Newsmatics
The Science Behind the Fledglings' Flight App
News provided by
EIN Presswire
Oct 04, 2023, 8:00 AM ET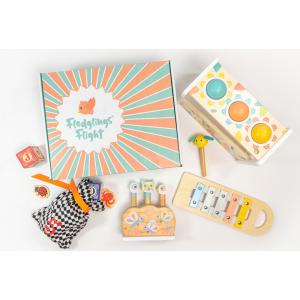 Fledglings' Flight customizes every monthly Toolbox to each child's unique developmental needs.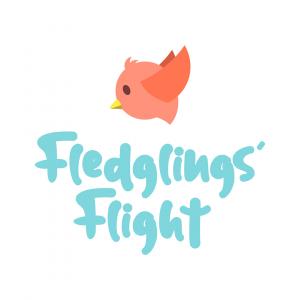 Fledglings' Flight logo
Research shows that science can supercharge your child's development.
LOS ANGELES, CALIFORNIA, U.S.A., October 4, 2023 /EINPresswire.com/ -- Children who are under 3 are at a developmental disadvantage than their pre-pandemic peers because of the lingering effects of pandemic-related isolation. Studies released in the beginning of 2021 have shown that children who were as young as 6 months old when pandemic lockdowns began in March of 2020 show "significant" developmental delays than prior generations. 80% of the brain is developed in the first 1000 days from birth. Beginning at the age of 3, the brain begins to prune connections that are no longer being used. These connections will be permanently removed. It is critical for parents of young children to assist their child in making as many connections in the brain as possible during this window of time. Parents can help build these connections in their child's brain with play-based exercises. Fledglings' Flight, an app and customized monthly subscription box, provides parents with over 100 play-based exercises for every month of life. These exercises are divided into 6 categories: fine and gross motor skills, cognitive and social-emotional development, sensory processing, and communication. By using the Fledglings' Flight app, parents can optimize their child's development through play.
While prior generations of parents believed that "play" was a self-indulgent activity for children, research shows during play, the brain is stimulated so that connections between nerve cells can be developed. In addition, play helps with the development of fine and gross motor skills, language, and socialization skills. In short, it allows children to learn to communicate emotions, to think, be creative, and solve problems. In The Importance of Play, researchers state, "This happens when children play with objects because they can set goals and challenges, monitor their own progress towards them, and develop a growing repertoire of mental and physical skills, as well as strategies to build more." Children who play every day will have enhanced physical, social-emotional, and cognitive development.
Fledglings' Flight offers parents over 4000 play-based, daily exercises for parents of children under 3. When using the app, parents can choose ways to play with their children that builds their fine and gross motor skills, social-emotional, language, and cognitive development, as well as their ability to process information through their senses.
They recommend parents select at least one exercise from each of the 6 developmental categories each week. Parents need to repeat the exercises at least 7 times until their child shows mastery of the skill. Research in the field of neuroscience shows that a long duration of repetitive tasks builds stable networks between nerve cells in the brain and enhances brain processing. When a skill is learned in this way, it is easier for the person to do it again in the future. Skills that are learned through play, have longer lasting effects than skills taught in a traditional academic setting. Even if the skills that are built through playing with an object seem specific to that particular toy, these skills can be easily used in different real-life situations.
While today's parents may feel overwhelmed by the introduction of new child-related obligations, research shows that playing with children can be a stress reducer for overworked parents. In addition, families who play together are more cooperative, supportive, and communicate with each other better. According to the study, The Importance of Play in Early Childhood Development, when you play with your child, you are "sending positive messages" to them, and their "self-esteem gets a boost." Fledglings' Flight reduces parents' mental load by providing a library of play-based exercises to do with their children every day.
Fledglings' Flight was developed during the pandemic to help mitigate developmental delays that young children could develop during pandemic-related isolation. "While I knew that lockdowns were going to impact everyone negatively, I knew that it was going to affect the youngest children the most," says Adventuretown Toy Emporium's CEO and Founder, Annamarie von Firley. While pandemic-related isolation is a thing of the past, the science-based activities found in Fledglings' Flight can help all parents of children under 3 optimize their child's development. Fledglings' Flight is a web-based app and can be used on all devices and platforms. Daily play-based exercises and a large resource library of articles and research papers on child development are free for parents and caregivers to use. Basic members can track their child's 812 milestones that they should achieve by their 4th birthday. Premium members receive a monthly "Toolbox" of skill-based toys tailored to their child's unique developmental needs, whether they are delayed, on track, advanced, or asynchronous. "We use parent-provided data such as the child's birthdate, what milestones were achieved and when they achieved them, completed exercises, as well as feedback from the parents about their child's experience with the toys," von Firley says. "Parents no longer need to go it alone when trying to nurture their child's development. We've got your back."
###
Adventuretown Toy Emporium, founded in 2016, cultivates children's curiosity by learning through play with hands-on activities from 35 countries. Annamarie von Firley, has a BA in Wooden Toy Design and Construction, BFA in Furniture Design, and is a Certified Play Expert.
Ximena Juarez
Adventuretown Toy Emporium
+1 213-640-7181
press@adventuretowntoys.com
Visit us on social media:
Facebook
LinkedIn
Instagram
YouTube
TikTok
Fledglings' Flight Child Development App & Customized Subscription
NOTE: This content is not written by or endorsed by "KTLA", its advertisers, or Nexstar Media Inc.
For inquiries or corrections to Press Releases, please reach out to EIN Presswire.