This is an archived article and the information in the article may be outdated. Please look at the time stamp on the story to see when it was last updated.
Hundreds of people lined up Sunday to honor and pay their respects to actor Paul Walker and his friend Roger Rodas at the Santa Clarita crash site where the two men died exactly one year ago.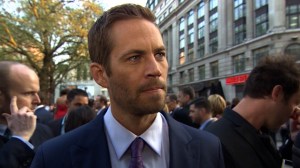 A photo tweeted out by the Santa Clarita Valley's sheriff's station showed people lining up behind orange traffic cones and barricades on Rye Canyon Loop, the street where both men were killed on Nov. 30, 2013, when the 2005 Porsche Carrera GT that Rodas was driving crashed and burst into flames.
"Waves" of people visited the crash site Sunday, with an estimated 500 people showing up at one point, according to Los Angeles County Sheriff's Department Deputy Josh Dubin.
"We're just asking people to obey the cone patterns and traffic laws. Everyone has been pretty good so far," Dubin said.
While some visitors were fans of Walker's popular role in "The Fast and the Furious" movie franchise, others said he was more than that his Hollywood achievements.
"He had his own charities on the side. He was actually a good person outside of the whole 'Fast and the Furious' thing," Victor Salazar told KTLA at the memorial.
 Others, like Alex Rodriguez, said those interested in racing needed to pay attention to what happened to Walker and Rodas.
"It's not going to change the whole scene, regarding how people look at cars and whatnot. It's just a wake-up call, that's what it is," Rodriguez said.
The cause of the crash was determined to be "unsafe speed for the roadway conditions," the Sheriff's Department stated in March. The car was traveling between 80 and 93 mph at the time of the collision.
The posted speed limit on the road was 45 mph.
Walker and Rodas were pronounced dead at the scene.
Both men were wearing seat belts and neither had drugs or alcohol in their system, according to the autopsy report from the Los Angeles County Department of Coroner that was released in January.
Walker, 40, died of the combined effects of traumatic and thermal injuries, the coroner's report stated.
The 38-year-old Rodas suffered major head trauma and died "rapidly" of severe blunt, head, neck and chest trauma, according to the report.
The fiery collision occurred as the two men were heading to an event for Walker's charity, Reach Out Worldwide.
Walker's father, Paul Walker III, told E! News in a recent interview that he thought about his son every single day in the wake of the deadly crash, CNN reported.
"I feel his presence every day," he said, according to the cable news station. "I miss talking to him a great deal. He had a good heart."
Walker's "Fast and Furious" co-star Tyrese Gibson also paid tribute to the actor Sunday, posting a photo of Walker and himself to his Facebook page.
"A celebration of Paul William Walker will be echoed around the world …1 year ago today God called an angel home early," Gibson wrote.
He added that he missed his "brother," friend," and "our star."
A post on Paul Walker's Facebook page by "Team PW" asked fans to celebrate the actor's life by sharing their favorite quotes, photos and moments. As of 11 p.m.,  the post had more than 1.2 million "likes," nearly 18,000 comments and had been shared more than 47,000 times.
Walker's last film, "Furious 7," was scheduled to be released in movie theaters on April 3, 2015.
If visiting the #SCV #PaulWalker #RogerRodas site today pls follow traffic laws & find a legal parking place 4 ur veh pic.twitter.com/p1HQAx5aFg

— Josh Dubin (@jdLASD) November 30, 2014
If visiting the #PaulWalker #RogerRodas site today pls remember it's raining, slow down, & follow all traffic laws. pic.twitter.com/MRpPwtx2az

— SCV Sheriff (@SCVSHERIFF) November 30, 2014