This is an archived article and the information in the article may be outdated. Please look at the time stamp on the story to see when it was last updated.
After being released from jail Tuesday without being charged in the fatal stabbing of a man at his home near Santa Clarita, an actor who played a Power Ranger apologized for what happened.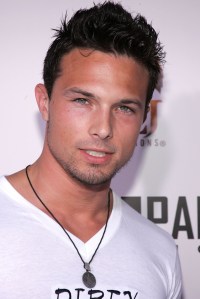 Ricardo Medina, 36, was arrested on suspicion of murder after Joshua Sutter, also 36, was stabbed to death with a sword during an argument between the pair on Saturday, according to the Los Angeles County Sheriff's Department.
The District Attorney's Office rejected the case, sending it back to the Sheriff's Department for further investigation, a sheriff's spokeswoman said Tuesday.
Medina played the red Power Ranger on "Power Rangers Wild Force" in 2002 and has appeared as a one of the costumed children's heroes in other productions, according to his profile on the Internet Movie Database. He also appeared in the show "Power Rangers Samurai" in 2011 and 2012.
Medina was initially held on $1 million bail. He was released about 4 p.m. from the Antelope Valley jail.
"I'm very, very, very sorry for what occurred," Medina said to gathered news media. "I'm very happy to be out of jail, and my heart goes out to the Sutter family."
The Sheriff's Department had said that Medina and Sutter lived together, but Medina's attorney, Allen Bell, on Tuesday said the man who was stabbed was not a roommate but was a friend of Medina who was staying with the actor as a houseguest.
The pair had a physical confrontation at a home in the Angeles National Forest area north of Santa Clarita that led Medina to retreat to his bedroom alongside his girlfriend. Sutter then forced the door open, according to a Sheriff's Department news release.
"Suspect Medina stabbed victim Sutter once in the abdomen with a sword kept next to the bedroom door," the release stated.
Medina called 911 and stayed until authorities arrived. Homicide detectives took him into custody.
Bell said Medina acted in self-defense.
"He was not only defending himself, but a young lady who was an independent witness, who observed the entire incident and was present with unfortunate issue with the sword occurred," Bell said.
More videos: