This is an archived article and the information in the article may be outdated. Please look at the time stamp on the story to see when it was last updated.
Tens of thousands of runners trekked across the Southland in this year's L.A. Marathon, a 26.2-mile trek stretching from Dodger Stadium to Santa Monica.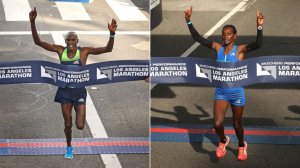 Roughly 24,000 people were competing in the race's 33rd-annual installment, which began just before 7 a.m. at Dodger Stadium. More than just making the crosstown trek, runners have come from all 50 states and 63 countries to participate in "stadium to sea" event, organizers said on its website.
Weldon Kirui, a 29-year-old from Kenya, was the first to cross the finish line shortly after 9 a.m. with a time of 2:11.46 for his second L.A. Marathon victory in three years, and Ethiopia's Sule Utura Gedo, 28, nabbed first place in the women's competition with a time of 2:33.50.
Related: Watch KTLA's live finish line cam and get a full list of race results
As of 3:30 p.m., the majority of participants had crossed the finish line, according to the city of Santa Monica. But others had fallen ill during the race, with a total of 86 people receiving medical attention and 14 of them taken to a hospital. Of the transported patients, four were suffering life-threatening injuries, according to race officials.
Several streets had been closed along the race's route, which winds through downtown L.A. before heading west to Santa Monica via Silver Lake, Hollywood and Beverly Hills.
[protected-iframe id="35780baefeee1302a5fb2d1efe26ca9f-41641936-109948526″ info="https://www.commuterama.com/lamarathon?id=4123&embed=true" width="425″ height="400″ frameborder="0″ scrolling="no"]
View Larger Map
In addition to the handful streets still fully closed to through traffic, other roads were only open to residents. Click here for the locations and times of hard closures; click here for a list of streets that are local access only.
There are some surface streets motorists can use to traverse the marathon course. Drivers can take Bundy Drive between Olympic and Wilshire boulevards, Fairfax Avenue between Olympic and Santa Monica boulevards, and the 405 Freeway, although the Santa Monica Boulevard exit will be closed.
Metro is running enhanced service on its Expo and Red lines, with longer trains on the Red Line and more frequent service on the Expo Line. However, those planning to take the bus Sunday were advised to allow extra time as around 50 routes will be subjected to detours. Click here for more details on bus schedules.
Participants were given a maximum of 6 hours and 30 minutes to complete the race. Runners were competing in male and female divisions across 15 age categories, with the top three finishers in each group taking home an award.
The event offers plenty of perks for spectators who don't want to commit to a cross-town trek, with a bevy of musical acts and vendors stationed throughout the race. Click here for more info on viewing events.
24,000 runners from all 50 states and more than 60 countries, running from Dodger Stadium to the sea: this is the #LAMarathon.

Congratulations to all the runners! pic.twitter.com/GzDHDGAeZa

— Mayor Eric Garcetti (@MayorOfLA) March 18, 2018
The father of Christiana Duarte, who was killed in last year's mass shooting in Las Vegas, ran the @lamarathon in her honor. The two had planned to begin training for the race when they returned from Las Vegas. pic.twitter.com/vVKfhGEqFu

— KTLA (@KTLA) March 18, 2018
This gets me right in the feels! When your body gives out… But random strangers help you finish. #IamMyBrothersKeeper @skechersGO @lamarathon #GoRunLA #LAMarathon pic.twitter.com/GLs7VhTgAt

— Chris Schauble (@ChrisKTLA) March 18, 2018
Officer running #LAMarathon in full SWAT gear passes through Beverly Hills. #respect pic.twitter.com/MNN4vPLzfp

— Beverly Hills Police (@BeverlyHillsPD) March 18, 2018
#LAMarathon My son was 12 when he did it with @SRLA now my grandson, 4, is dreaming of doing it. He ran a 3 mi run last year. @ChristinaKTLA maybe we'll see you in 8 yrs! @KTLAMorningNews #GORUNLA #srlagarciafamily Mile 7 pic.twitter.com/G0x1fCNRd7

— Andrea (@Librarygal05) March 18, 2018
They're running the #LAMarathon in style https://t.co/L1PMOGdFmK pic.twitter.com/ZEiMLX6WE9

— Los Angeles Times (@latimes) March 18, 2018
The first handcrank finishers has crossed the finish line! pic.twitter.com/F21huTGJHs

— City of Santa Monica (@santamonicacity) March 18, 2018
Elite men at mile 4! #LAMarathon2018 #WerunLA #GORUNLA pic.twitter.com/GyQxn6k7Z4

— Stephanie (@SLynW1970) March 18, 2018