This is an archived article and the information in the article may be outdated. Please look at the time stamp on the story to see when it was last updated.
The night's big winners were "American Hustle," which won three awards including best comedy or musical, best actress and best supporting actress, and "12 Years a Slave," which won for best drama.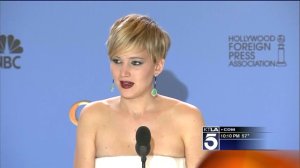 In the drama acting category, "Dallas Buyers Club" star Matthew McConaughey took home top honors in the actor category, while Cate Blanchett won the best actress award for "Blue Jasmine."
Filmmaker Alfonso Cuaron took home the Golden Globe for best directing for "Gravity,"
In the television awards, "Breaking Bad" was honored as the best drama, with star Bryan Cranston taking home the Golden Globe for best actor. Freshman comedy "Brooklyn Nine-Nine" won two awards, including best comedy and best actor for star Andy Samberg.
Sam Rubin reports for the KTLA 5 News at 10 on Sunday, Jan. 12, 2013.
(Video Credit: Golden Globe Awards clips provided by the Hollywood Foreign Press Association and Dick Clark Productions, Inc.)