This is an archived article and the information in the article may be outdated. Please look at the time stamp on the story to see when it was last updated.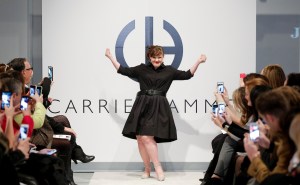 Jamie Brewer made fashion history Thursday as the first model with Down syndrome to walk a runway during New York Fashion Week.
Brewer, who is best known for the "American Horror Story" TV franchise, was recruited to strut her stuff for designer Carrie Hammer.
"Young girls and even young women … (see me) and say, 'hey, if she can do it, so can I,' " Brewer told Today.com. "It's a true inspiration being a role model for any young women to (encourage them) in being who they are and showing who they are."
Photos from the event showed Brewer smiling, pointing her finger at the audience and raising her arms in victory.
The actress/model was part of designer Hammer's Role Models Not Runway Models campaign, which highlights women making a difference. Hammer told Today she began the campaign a year ago when she was first asked to show her designs at Fashion Week.
The designer said she wanted to represent the real women who make up her clientele and invited her friend Danielle Sheypuk, who uses a wheelchair, to be in her show.
"I called up my existing clients who were all incredible women, and one of them happened to be a doctor and a sex therapist who happened to be in wheelchair," Hammer told Today.com. "It was never intended to be this incredible statement."
Hammer has designed a dress for Brewer, who is an advocate for those with intellectual disabilities, that she feels plays up her qualities as an actress and artist. Brewer said she was excited to wear the creation.
"Many women have many sides to their personality. This dress fits … mine," she said. "I am honored to be in it."
Brewer, 30, was born in California, according to her Internet Movie Database page.
KTLA's Melissa Pamer contributed to this article.
Make-Up Time by @NYIBeauty for @carriehammer #RoleModelsNotRunwayModels #FashionShow #NYFashionWeek pic.twitter.com/GwU1lFbw1U

— Jamie Brewer (@MsJamieBrewer) February 12, 2015
Hair Time Now by @NYIBeauty @carriehammer #RoleModelsNotRunwayModels #NYFashionWeek pic.twitter.com/cvigZMG97S

— Jamie Brewer (@MsJamieBrewer) February 12, 2015
How infectious is the smile of @MsJamieBrewer?! Loved watching the @AHSFX actress today! #RoleModelsNotRunwayModels pic.twitter.com/AJZjUDahz7

— CARRIE HAMMER (@carriehammer) February 12, 2015