This is an archived article and the information in the article may be outdated. Please look at the time stamp on the story to see when it was last updated.
Adele swept the top honors at the 59th Annual Grammy Awards, but the night was shared with Beyoncé.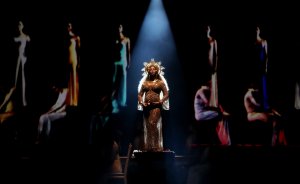 Starts, stops, surprises and chair-dropping moments were all on tap as the two superstars each provided stellar performances.
Beyoncé, who recently announced she's expecting twins, dressed as a goddess to perform "Love Drought" and "Sandcastles" off her album "Lemonade." The nine-minute set celebrated motherhood and included an impressive chair stunt that had people talking.
Adele opened the show with her hit "Hello" and later performed a slowed arrangement of George Michael's "Fastlove" in tribute to the singer, who died on Christmas Day.
She uttered an expletive and stopped after a few verses.
"I'm sorry, I can't mess this up for him," Adele said.
She then beautifully powered through the song and the audience responded with a standing ovation.
Adele's evening got better when she won Grammy Awards for song and record of the year.
During her acceptance speech for record of the year, she professed her admiration for fellow nominee, Beyoncé.
"I adore you and I want you to be my mommy," Adele quipped.
Moments later when she won album of the year for "25," Adele insisted Beyoncé deserved it more.
"The 'Lemonade' album was just so monumental," said a teary Adele to Beyoncé, who also had tears in her eyes.
Adele went home with five total awards. Beyoncé won two, including best music video for "Formation" and best urban contemporary album.
David Bowie won five Grammy Awards posthumously for his 25th and final album, "Blackstar."
Chance the Rapper won the first award of the night for best new artist.
"Glory be to God," the Chicago native said before thanking his family and his hometown.
The rapper also won best rap album -- making history as the first artist with a streaming-only album to win a Grammy.
Several stars performed duets, including Keith Urban and Carrie Underwood, Lady Gaga and Metallica.
A Tribe Called Quest teamed up with Anderson.Paak and Busta Rhymes that included criticism of President Donald Trump.
"I just want to thank President Agent Orange for perpetuating all of the evil that you've been perpetuating throughout the United States," Rhymes said before launching into the song "We the People."
James Corden had a few political jokes, but the Grammy host largely kept the focus of night on the music.