This is an archived article and the information in the article may be outdated. Please look at the time stamp on the story to see when it was last updated.
SAN FRANCISCO — And the winner for best tweet: Ellen DeGeneres, who struck social-media gold for the Oscars and sponsor Samsung with the best selfie of the night.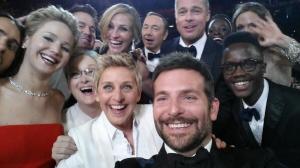 The celebrity-filled selfie on a Samsung phone was the Twitter star of Oscar night. DeGeneres never mentioned Samsung, a major Oscars advertiser, but appeared to use the company's Galaxy or Note for the selfie, which was actually taken by Bradley Cooper. It was epic product placement for the Apple competitor.
Samsung, however, still has some mighty competition from the iPhone in becoming the smartphone to the stars. DeGeneres — or at least her Twitter account — tweeted backstage with an iPhone.
The selfie now holds the record as the most popular tweet ever, making the picture worth every dollar Samsung spent on the sponsorship.
Click here to read the full story on LATimes.com.