This is an archived article and the information in the article may be outdated. Please look at the time stamp on the story to see when it was last updated.
NORTH HOLLYWOOD, Calif. (KTLA) — Netflix elbowed its way into a mostly-familiar field for the 2013 Emmy Awards when the nominations were announced Thursday morning.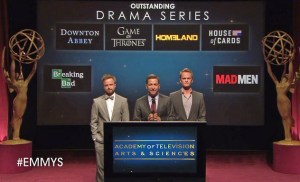 The home-subscription service scored nods for both the drama series "House of Cards" and the comedy "Arrested Development."
It was the first time a series distributed online has been nominated for TV's top honors.
"House of Cards" was nominated for Outstanding Drama Series. Kevin Spacey and Robin wright also received lead acting nominations.
Jason Bateman was nominated for Outstanding Lead Actor in a Comedy Series for "Arrested Development."
On the drama side, Showtime's "Homeland," HBO's "Game of Thrones," and the AMC shows "Breaking Bad" and "Mad Men" all earned multiple nominations.
Emmy favorite "30 Rock" led the way among the comedy nominees with 13 nods.
ABC's "Modern Family" and CBS' "The Big Bang Theory" were also among the most lauded shows of the morning.
The nominations were announced at the Goldenson Theatre in North Hollywood by "Breaking Bad's" Aaron Paul and Emmy show host Neil Patrick Harris.
Harris was a last-minute replacement for "House of Cards" actress Kate Mara, who was sidelined by plane trouble.
Both presenters received nominations, Paul for Outstanding Supporting Actor in a Drama Series and Harris as the producer/host of the 66th Annual Tony Awards.
The 65th Emmy Awards will air live on CBS on Sept. 22.
For a complete list of the nominees, visit www.emmys.com/nominations.