This is an archived article and the information in the article may be outdated. Please look at the time stamp on the story to see when it was last updated.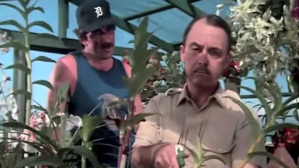 John Hillerman, the actor who played the comically uptight character Higgins on the 1980s Hawaii-based crime show "Magnum P.I.," has died, according to media reports.
Hillerman died Thursday at his home in Houston at the age of 84, his publicist, Lori De Waal, said.
His nephew told the Associated Press the cause of his death was not immediately known.
Sporting an unusual, snooty British accent, Hillerman appeared as a foil to Tom Selleck on "Magnum P.I.," which aired from 1980 to 1988.
Born in Texas, Hillerman began his on-screen acting career in 1970, according to the Internet Movie Database.
He had majored in journalism at the University of Texas and did a stint in the Air Force — where he achieved the rank of sergeant — before moving New York City to pursue a theater acting career.
The stage-trained actor first made an impression as arrogant radio show detective Simon Brimmer on the NBC revival of "Ellery Queen" in 1975. Hillerman then took on notable roles as the boss of Bonnie Franklin on the long-running CBS sitcom "One Day at a Time," and trading sarcastic quips with Betty White in the short-lived sitcom "The Betty White Show" in 1977.
Hillerman made his film debut in Peter Bogdanovich's "The Last Picture Show" in 1971, before scoring roles in movies such as Bogdanovich's "Paper Moon," Clint Eastwood's "High Plains Drifter," Mel Brooks' "Blazing Saddles," and Roman Polanski's "Chinatown."
The role of Jonathan Quayle Higgins III was his favorite, Hillerman's nephew told the AP.
Playing the repressed and paternalistic foil to Selleck's titular character in "Magnum P.I." earned Hillerman an Emmy Award for Outstanding Supporting Actor in a Drama Series in 1987 and a Golden Globe Award that same year.
Hillerman went on to make one hundred appearances on the small screen, De Waal said. The actor's final appearance was in the 1996 film "A Very Brady Sequel."
CNN contributed to this report.