This is an archived article and the information in the article may be outdated. Please look at the time stamp on the story to see when it was last updated.
DEL AIRE (KTLA) —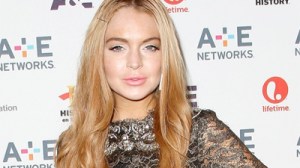 A court commissioner revoked actress Lindsay Lohan's probation on Wednesday, which could land the troubled starlet back in jail.
Lohan, 26, did not attend Wednesday's hearing. Commissioner Jane Godfrey scheduled another hearing for January 15th.
Lohan is facing three misdemeanor charges in connection with her June 8 crash on Pacific Coast Highway in Santa Monica on the way to a film shoot.
According to prosecutors, Lohan, 26,  lied to police when she told them she wasn't the one behind the wheel when her Porsche slammed into a dump truck.
She faces charges of obstructing or resisting a peace officer in the performance of his duty, giving false information to a peace officer and reckless driving.
Lohan is currently on probation in connection with a necklace theft from a Venice jewelry store last year. One of the conditions of her parole is that she obey all laws.
Because of the new charges, prosecutors had asked that the "Liz & Dick" star's probation be revoked.
At the January 15 hearing, a date will be set for the probation revocation hearing and arraignment on the Santa Monica charges.
Lohan could be sentenced to 245 days in jail if a judge determines that her conduct was a probation violation.
She has been to jail four times in recent years for various violations of the probation terms set after a conviction in 1997 of driving under the influence.
Meantime, Lohan is also facing legal troubles on the East Coast stemming from an alleged fight at a New York City nightclub.
Lohan was arrested on suspicion of misdemeanor assault after allegedly taking a swing at West Palm Beach psychic Tiffany Mitchell at the trendy Club Avenue.
The incident happened in the early morning hours of Nov. 29 — the same day that the charges in Santa Monica were filed.
According to celebrity website TMZ, people in Lohan's group told her Mitchell's friends had swiped her purse, so Lohan confronted the fortune teller.
TMZ says Lohan admitted to friends that she called Mitchell an "[expletive] gypsy," but she denies hitting her.
Lohan was given a desk appearance ticket to appear in court in the near future and then released several hours later.