This is an archived article and the information in the article may be outdated. Please look at the time stamp on the story to see when it was last updated.
NEW YORK (KTLA) — Actress Amanda Bynes was in trouble with the law again, after she was arrested at her apartment in New York on Thursday night.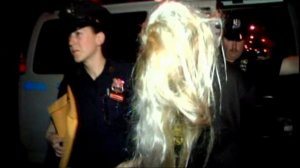 A building official called authorities to report that Bynes was smoking an illegal substance in the lobby, police said.
Bynes, 27, let officers into her apartment, where they said they saw a bong and other marijuana paraphernalia sitting on the coffee table.
Bynes started throwing the items out the window in front of officers, according to police.
The actress was taken to a hospital for a psychiatric evaluation before she was booked, celebrity website TMZ reported.
The actress was seen wearing a blonde wig getting out of a police van at Manhattan Central Booking.
She was charged with tampering with physical evidence, criminal possession of marijuana and reckless endangerment, because the objects could have hit someone below.
Bynes was in court for an arraignment on Friday morning, and she was released on her own recognizance.
Just two weeks ago, she pleaded no contest in Los Angeles to driving with a suspended license. Bynes was sentenced to three years of probation.
Bynes also has a DUI case pending in Beverly Hills.