This is an archived article and the information in the article may be outdated. Please look at the time stamp on the story to see when it was last updated.
If you listened carefully in the hills and canyons around the Hollywood Bowl on Friday evening, you could almost hear a simple ostinato built around two bass notes that evoked the ominous feeling of an imminent attack by a predatory shark.
Da-dum. Da-dum, da-dum, da-dum. Run for your lives, here it comes!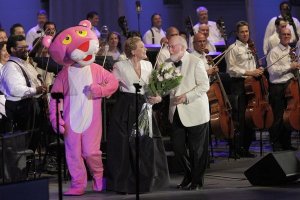 Something deep, dark and ageless — at least in pop culture terms — indeed swept into the Bowl on a very warm summer night. But it wasn't the Oscar-winning theme from "Jaws" by film composer John Williams, who conducted his annual concert "John Williams: Maestro of the Movies" (the show also plays Saturday night).
Instead it was the collective beast in the form of a mini-"Star Wars" convention that packed the Bowl from its garden boxes to its grassy hillsides. A touch of Comic-Con descended upon the venerable venue.
After finally hearing the opening strains to "Clash of the Lightsabers" performed by the Los Angeles Philharmonic after intermission, the "Star Wars"-hungry audience lit up the night with hundreds of blue, green and red novelty lightsabers.
Click here to read the full review on LATimes.com.