This is an archived article and the information in the article may be outdated. Please look at the time stamp on the story to see when it was last updated.
Rap mogul Marion "Suge" Knight was among three people who were shot and wounded at a West Hollywood nightclub early Sunday, authorities said.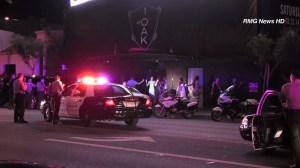 The shooting occurred in the 9000 block of Sunset Boulevard around 1:30 a.m., according to a news release from the Los Angeles County Sheriff's Department.
Two men and a woman were injured in the incident, which occurred during a celebrity-filled party hosted by Chris Brown, according to the Sheriff's Department and CNN.
Knight, the founder of Death Row Records, was among the injured, Nicole Nishida with the Sheriff's Department confirmed to KTLA.
His condition was not immediately known, but Nishida said his injuries were not considered life-threatening.
The two other victims, whose identities have not been released, were expected to recover from their wounds, the release stated.
Brown had posted on Instagram Saturday that he was hosting a party at 1Oak club ahead of the MTV Video Music Awards, which are scheduled to be held at the Forum in Inglewood on Sunday.
Following the shooting, Brown tweeted, "It's disappointing that we as a society can't have fun or enjoy ourselves without any altercations sometimes."
No arrests have been made in connection with the shooting.
The Sheriff's Department was asking anyone with information to call the West Hollywood Station at 310-855-8850 or Crime Stoppers at 800-222-8477.