This is an archived article and the information in the article may be outdated. Please look at the time stamp on the story to see when it was last updated.
The attorney for former rap mogul Marion "Suge" Knight said Monday that a video posted online that appears to show Knight's truck striking two men in Compton clears his client of any wrongdoing.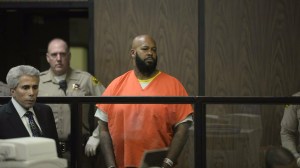 The video, posted on TMZ on Monday, appears to show Knight's red truck pulling up to a Compton hamburger stand. He appears to talk to several people standing nearby before the truck backs up and hits one of the men, who falls to the ground. Seconds later in the video, the truck comes back and runs over the man on the ground and hits a second man before speeding away.
Knight appeared in court for a brief appearance Monday. His attorney, Matthew Fletcher, spoke with reporters afterward and said the video shows Knight being attacked while he sits inside his truck before speeding off.
"They started it. … They attacked him," Fletcher said, equating Knight's reaction to a stand-your-ground situation. "You're not required by law to run. … If Suge had put it in park and got out, he's dead."
Click here to read the full story on LATimes.com.
[protected-iframe id="ab742613093ab73eb383fd516cb23176-41641936-52137988" info="//cdnapisec.kaltura.com/p/591531/sp/59153100/embedIframeJs/uiconf_id/6740162/partner_id/591531?iframeembed=true&playerId=kaltura_player_1413478522&entry_id=0_rzxr38mb" width="664" height="421" frameborder="0" style="width: 664px; height: 421px;" webkitallowfullscreen="" mozallowfullscreen="" allowfullscreen=""]
More video: