This is an archived article and the information in the article may be outdated. Please look at the time stamp on the story to see when it was last updated.
One man was killed after a brutal fight broke out between a group of men outside a club in Hollywood early Sunday, the Los Angeles Police Department reported.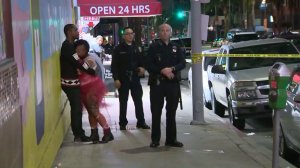 The deadly fight happened about 2:30 a.m. when an argument broke out between a group of women, and quickly escalated when the men they were with got into a physical fight. According to police, 29-year-old Devion Jelkes was punched and beaten by two men right outside the Couture Nightclub located near Hollywood and Cahuenga boulevards.
The two suspects fled the scene, authorities said.
Anaheim resident Dietrich Canterberry, 34, fled on a party bus but was arrested a short time later on suspicion of murder. His bail was set at $2 million.
LAPD officers were still searching for the second assailant, described as a black man who is 5 feet 10 inches tall, weighs about 185 pounds and around 35 years old. He was last seen wearing dark pants and a white T-shirt, they said.
When police responding, they found Jelkes unconscious and suffering from blunt force trauma, according to a press release. The suspects had punched and kicked him until he died, officials said. Police also told KTLA Jelkes fell and hit his head on the curb during the attack.
Some of Jelkes' friends attempted to render aid, but when first responders arrived the victim was lying in the street unconscious. Jelkes was taken to a local hospital where he was pronounced dead.
Police had previously given Jelkes' first name as Devon.