This is an archived article and the information in the article may be outdated. Please look at the time stamp on the story to see when it was last updated.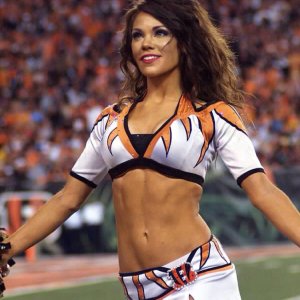 It's not just the Oakland Raiderettes who say they've been ripped off by the NFL team that employs them.
Now a member of the Cincinnati Bengals cheerleading squad has slapped her team with a class action lawsuit, which was filed in federal court this week.
Alexa Brenneman says she spent more than three hundred hours working as a Ben-Gals cheerleader last year, and was paid a total of $855.
That translates to a pay rate of less than $2.85 an hour.  In Ohio, the minimum hourly wage is $7.85.
In her claim, Brenneman says the Bengals pay only $90 to each cheerleader per home game.   Yet they are required to attend 6-8 hours a week of practice, as well as ten charity functions a season.
And they "must pose for and promote a Ben-Gals calendar," according to the complaint.
Brenneman says she and the other cheerleaders on her squad were unlawfully denied minimum wages in violation of the Fair Labor Standards Act.
You can read the full complaint here:  Ben-Galscomplaint
The Cincinnati Bengals responded to the lawsuit by issuing this statement: 
"The Ben-Gals cheerleading program has long been a program run by former cheerleaders and has enjoyed broad support in the community and by members of the squad.  Yesterday's lawsuit appears to be a copycat lawsuit that mimics the one filed last month in California against a different NFL club.  The Bengals will address the litigation in due course."