This is an archived article and the information in the article may be outdated. Please look at the time stamp on the story to see when it was last updated.
A man was shot early Sunday when an altercation among a group of people led to an officer-involved shooting near a popular bar in Echo Park, the Los Angeles Police Department said.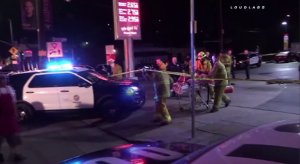 Officers responded to the area of Sunset Boulevard and Sutherland Street about midnight where they saw an altercation.
"When officers approached to investigate, a male Hispanic produced a handgun, at which point an officer-involved shooting occurred," Lt. Chris Ramirez told KTLA.
"The suspect then fled on foot one block westbound to the gas station behind me and the second officer-involved shooting occurred."
The suspect was hit by gunfire and taken to a local hospital for surgery, Ramirez said.
No officers were injured in the shooting.
A handgun believed to be held by the man was found at the scene, but it is unclear if the man opened fire at the officers, the Los Angeles Times reported.
LAPD was searching for the other people involved int he altercation and any witnesses.
The area where the shooting occurred was busy at the time, with patrons who were at nearby bars and clubs, Ramirez said.
The incident occurred near The Short Stop, a popular bar among Dodgers fans.