This is an archived article and the information in the article may be outdated. Please look at the time stamp on the story to see when it was last updated.
There is an app that can give you a heads up before the shaking from an Earthquake starts, but there is one thing holding it back from public release – and it isn't funding.
Imagine if you got a notification to your phone about a minute before the next big earthquake hits. What would you do with that time? It sounds like a far-fetched scenario, but the technology is actually available right now.
"I think a lot of people assume they will never have advance warning to an earthquake," said Alissa Walker, a reporter at the city-centric website network Curbed. Walker is one of the few people across California who have the app installed and activated on her phone.
"At first, I was a little terrified to have it because it does actually ping you for every single earthquake that happens," explained Walker, who wrote about her experience with the app after a recent earthquake. She got an alert with a heads up a full 34 seconds before anyone else knew it was coming.
That was the first earthquake I've felt since I got access to the @EarlyWarningLab beta app. I had 34 seconds warning—enough time to drop, cover, and hold on, which I would have done if I knew shaking was going to be strong. pic.twitter.com/Bx4Sn2imUW

— Alissa Walker (@awalkerinLA) April 5, 2018
The app sends an alert with the location, magnitude and expected shaking intensity, up to 60 seconds before an earthquake hits. It relies on a network of complex sensors placed throughout California, Oregon and Washington State and literally counts down for the user the seconds before shaking is expected to begin.
---
Follow KTLA 5 Tech Reporter Rich DeMuro on Social Media for useful tech news, apps & gadgets:
Facebook: http://facebook.com/RichOnTech
Twitter: http://twitter.com/richdemuro
Instagram: http://instagram.com/richontech
---
The app, called QuakeAlert II, is being developed by Santa Monica based Early Warning Labs, who has partnered with the United States Geological Survey. They say the time between the notification sent to phones and the shaking starting can be invaluable to residents, who can prepare for what's about to happen next.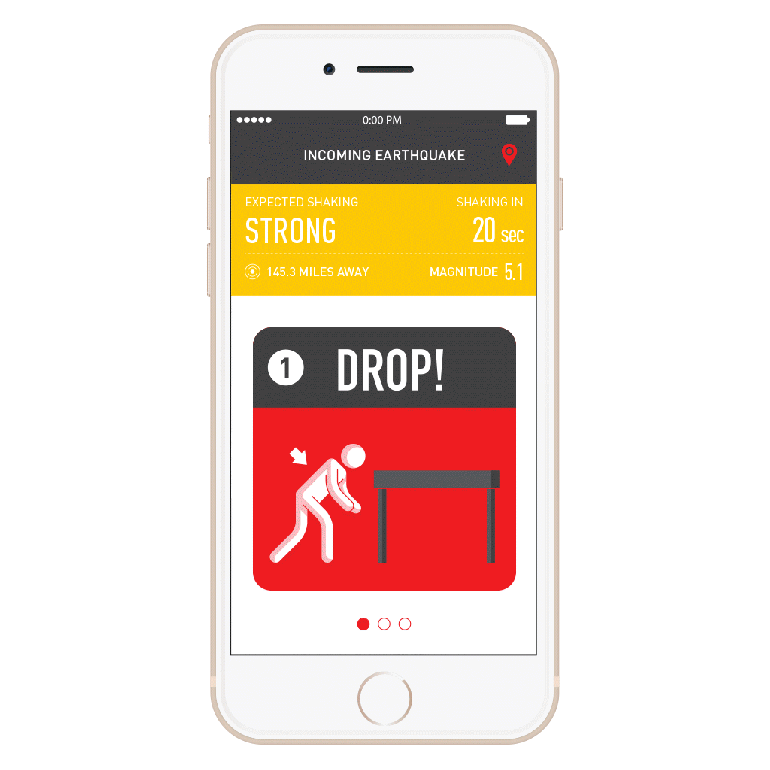 "Drop, cover and hold on. That's the number one thing best thing someone can do to prevent getting injured or killed in the next big earthquake," explained Josh Bashioum, founder of Early Warning Labs.
So why isn't this valuable app in the hands of more users? You might be thinking a money issue is holding it back, but that's not the case. It's actually something far more complicated – technology.
You see, right now the notifications you get on your phone aren't truly received in real time. There is a delay with text messages, Amber Alerts and even notifications. When it's up and running in a big way, Quake Alert could potentially be sending millions of messages at once. If users don't get them in real time, a 60 seconds heads up is worthless.
"If you're waiting for an Uber, 10 seconds, 30 seconds… not a big issue… but with an earthquake early warning when you're dealing with best case 60 seconds… we need every second that we can get," explained Bashioum.
Right now, you can download the app and install it on your phone, but it won't give you the crucial notifications unless you are approved for early access, like Walker. Early Warning Labs is working with Apple, Google and the wireless carriers to solve the notifications bottleneck so they can open access to millions more in hopes of saving lives. They hope to open up the beta to more people by the end of the year.
"The last thing we want is for people to say, Oh, I have a 30-second notice, I want to run outside. Every time we have a big earthquake, people are killed from falling debris from the tops of buildings – and if they drop cover and hold on under something sturdy like [a] table, that's your best chance at survival," concluded Bashioum.
NOW LISTEN: Here's an in-depth interview with Josh Bashioum of Early Warning Labs about how their Quake Alert system is already up and running for commercial businesses including hospitals and trains. Subscribe to the Rich on Tech podcast on Apple Podcasts, Pocket Casts, Overcast, Stitcher for a daily dose of useful tech news and reviews.
[protected-iframe id="83478460b17d09a45abe4985c1508599-41641936-42315212″ info="https://player.pippa.io/5a788c1e77abb830441900e8/episodes/theres-a-working-earthquake-warning-app-you-cant-have-yet?theme=default&cover=1&latest=1″ width="100%" height="110px" frameborder="0″]