This is an archived article and the information in the article may be outdated. Please look at the time stamp on the story to see when it was last updated.
Apple has two unique bluetooth wireless headphones options for its iPhone -  and other devices - here is how AirPods compare to BeatsX.
By now you know that the latest iPhone doesn't have a headphone jack. You'll find a set of wired headphones in the box but if you want to step up your experience, now is a great time to go wireless.
Follow KTLA Tech Reporter Rich DeMuro on facebook and twitter for cool apps, tech tricks & tips!
Apple has two great options - AirPods and BeatsX. Both will let you listen to your music, talk on the phone and control Siri wirelessly - here is how they compare.
Price
AirPods are $160 and have been tough to find in stock since they launched several months ago. BeatsX recently launched and are easier to find in a variety of colors for $150.
Design
AirPods are super minimalistic. They almost look like someone took the typical iPhone earbuds and just cut the cords off of them. They come in a tiny carrying case and the chances of losing one seem high. Apple will charge you about $70 to replace a single lost AirPod.
BeatsX have a more classic headphone design. They have a rubbery, tangle free cord that lets them rest around your neck. The earbuds are also magnetic so they stick to each other.
Pairing
Connecting both of these headphones is a breeze - it's almost like magic. Both feature Apple's proprietary W1 chip which helps them find nearby iOS devices. With the AirPods, all you have to do is have them close to your iPhone and open the case. Your phone screen instantly springs to life with a little popup window confirming that you want to pair them. In one click you're ready. BeatsX are very similar. Just hold the power button down for a bit and your phone will recognize them. The other benefit to these Apple built headphones is that they will instantly work across all of your iCloud devices with no extra pairing required.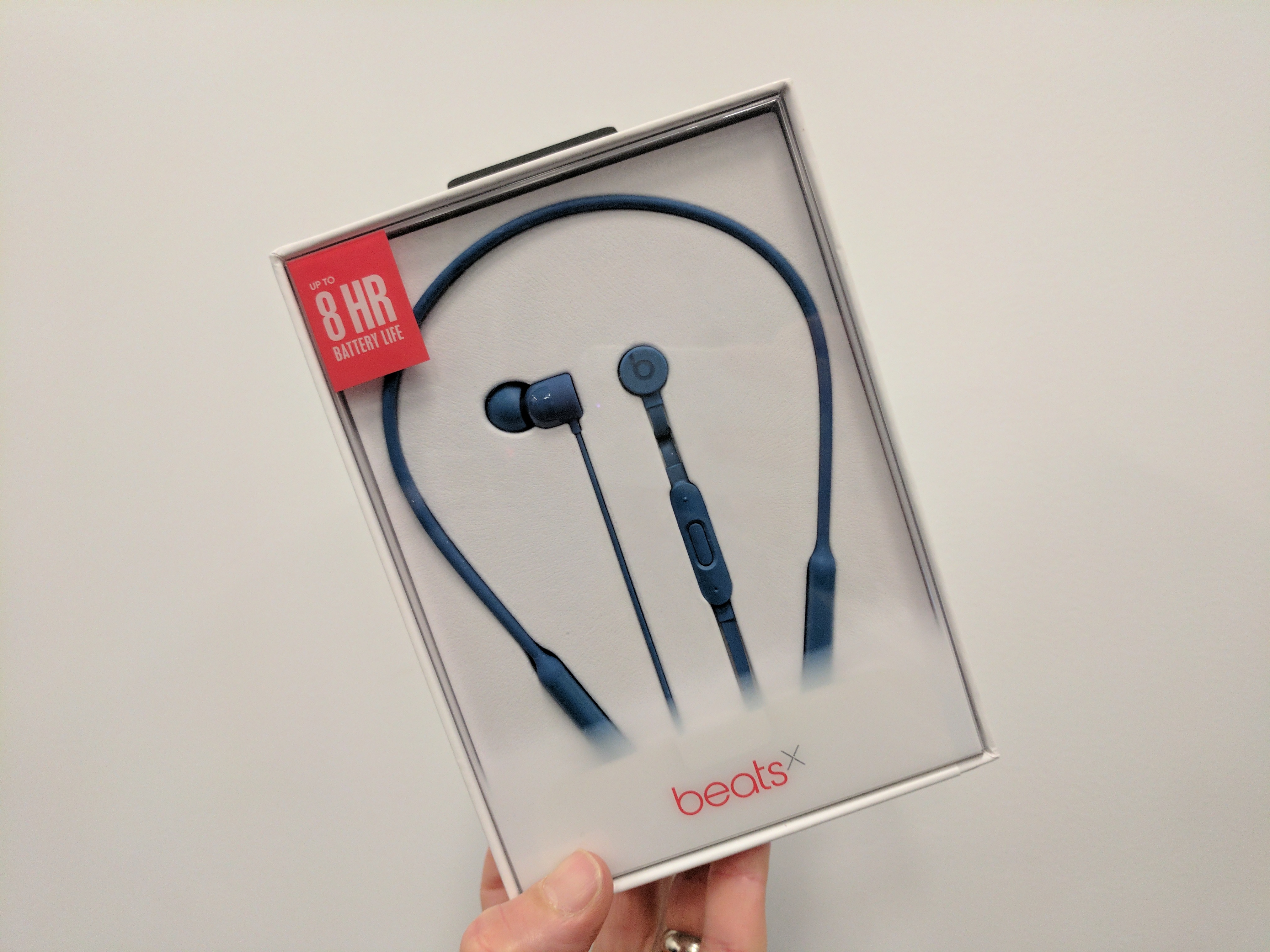 Charging
AirPods last up to 5 hours on a charge. The case doubles as a battery, effectively giving you up to 24 hours of juice.
BeatX charge up fast! Plug them in for just 5 minutes and you'll get up to 2 hours of playback. This is super handy for the gym if you don't like to plan ahead. In the time it will take you to change into your gym clothes or pack your bag you can have a full workout's worth of power. A full charge takes about 45 minutes and will make BeatsX last about 8 hours.
The other neat thing is that both of these headphones use a lightning cable to charge. This means one less thing to pack when you travel since you're already bringing this cord for your phone. You can also check the battery level on each pair of headphones using an iPhone widget.
Fit
AirPods feel like typical iPhone earbuds but without the cords. They are lightweight, comfortable and stay in your ears surprisingly well.
BeatsX take a bit more setup since you customize the fit. There are a bunch of ear tips and wingtips in the box in various sizes. You can swap them out for a comfy fit. BeatsX also block out more ambient sound since they fit tighter, but neither of these headphones are noise cancelling.
Bottom Line
Both of these headphones choices are fantastic for any iPhone owner. I find AirPods to be better suited for everyday use if convenience is the most important factor to you. They're small, pocketable and easy to pop in and out of your ears.
BeatsX are your best choice if sound quality is the most important attribute to you. I'm not an audiophile but while listening to music cranked up on both of these headphones, it is clear that BeatsX have some amazing sound quality for their size. They also get way louder, so be careful how high you set your volume.
There you have it - hopefully, this comparison has helped you make a better buying decision. For what it's worth, both of these headphones will easily pair with an Android or other Bluetooth device. You'll be able to listen to music but any Apple specific features won't work. If you have an Android phone, you're probably better off getting my other top headphone choice so you're not paying for features you won't use.