This is an archived article and the information in the article may be outdated. Please look at the time stamp on the story to see when it was last updated.
Those analog tapes you have laying around at home won't last forever! Now is the time to transfer them into a digital format that will keep for generations to come.
---
If you're like most people, you probably have a bunch of old videotapes lying around the house. Those analog tapes won't last forever, and like the memories contained on them, will eventually fade to black.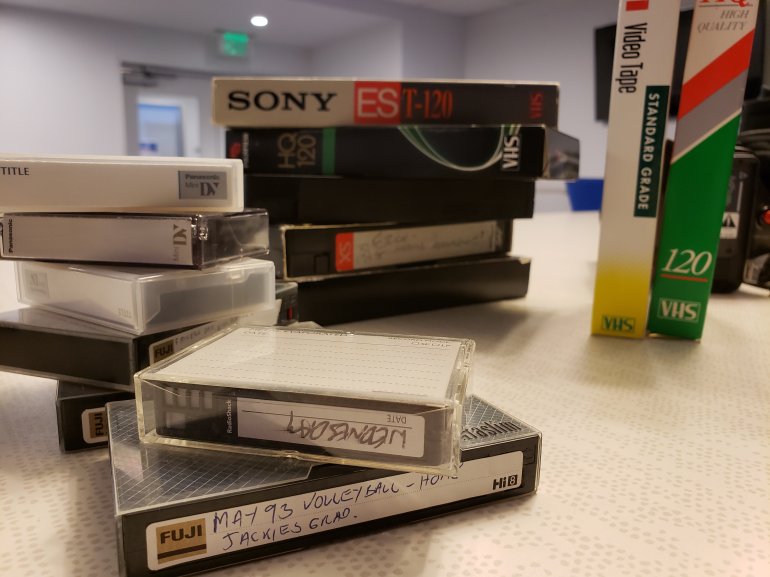 Follow KTLA Tech Reporter Rich DeMuro on Twitter, Instagram and Facebook!
But you can preserve these memories forever with some simple equipment and a little investment of your time.
I recommend doing this project yourself since you might be hesitant to send your tapes out to a third party digitizing company and have them leave your hands. The process is quite simple, but it does take some effort.
For starters, you need a few things to go from tape to digital:
Your old tapes
A capture device
A computer
A place to store your digital files
You will also need a way to play your old tapes – if you saved your camcorder or VCR, you're in luck! Otherwise, you'll have to borrow one from a friend or find a replacement online.
Once you have everything in place, you can begin.
First, connect the capture device to your computer. I tested two of them: Elgato Video Capture for Mac and the Roxio Easy VHS to DVD 3 for PC. Both worked flawlessly, although in the case of the Roxio you need a disc drive on your computer to install the software so just be aware of that. There is a workaround I found, but it wasn't necessarily easy.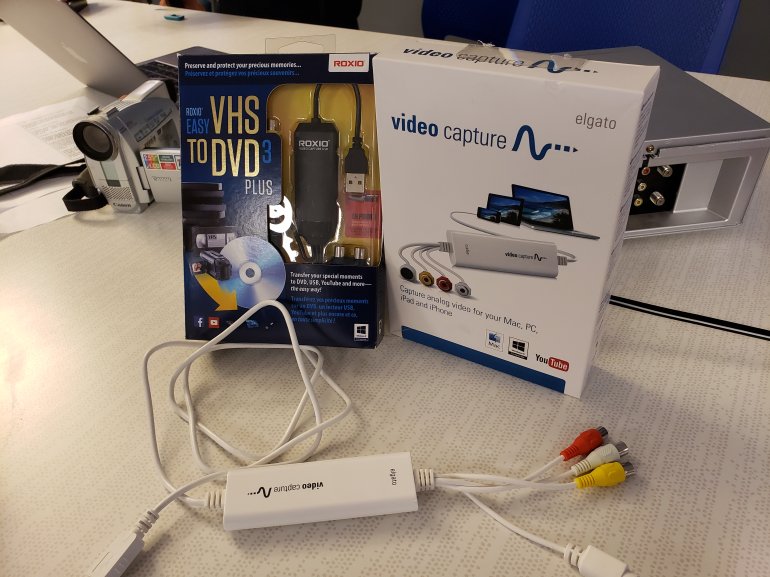 Buyer beware: there are tons of cheaper models available online but their setup and software will frustrate you. So STAY AWAY!  Better to just go with one of my recommendations since you know they will work with your Mac or PC.
Next, connect your old player. Pop in a tape and press record on your computer while it plays. Keep in mind the transfer happens in real time. This is the longest part of the process. If a tape is 90 minutes, it will take 90 minutes to transfer it to your computer. Also, make sure you have sufficient hard disk space before you begin.
Once the tape is finished recording, the software gives you the option to edit or just keep the video as is. My recommendation is to just clip the beginning and end so there's no blank video, then you can always do a full edit or clip into different sections later.
Once you have your digitalized tape on your computer, the next step is crucial: you need to back it up in a safe place.
I recommend using Google Photos for several reasons. First, you can store as many videos as you want there for free. Second, Google Photos will identify the people and places inside your videos. That means you'll be able to see all of the videos that contain your mom, dad or Uncle Earl.
To upload your videos to Google Photos, navigate to the website photos.google.com and drag and drop the file from your computer to the website.
Alternatively, you can also upload your videos to YouTube for free. Just be sure to pick the "Unlisted" option for more privacy. This means someone on YouTube can't search for your video but anyone you send the link to can view it without logging in.
The Private upload option on YouTube is the most private since anyone you share the link with will have to be pre-approved to view it and log in with their account to access it.
Once you're finished getting your videos online, you can email a link to friends and family, upload clips to Facebook or show the videos at your next family gathering. As long as you have your videos backed up in two different places, you should be OK disposing of the original tapes.
It's a time-consuming process but once it's done, you will feel great knowing that your precious memories are preserved for generations to enjoy.
NOW LISTEN: Here's a more in-depth description of the process of digitizing your old tapes, as heard on the Rich on Tech podcast.
[protected-iframe id="56100c97f9b695e6c02b96405e91c8a0-41641936-42315212″ info="https://player.pippa.io/5a788c1e77abb830441900e8/episodes/diy-transfer-your-old-tapes-to-digital?theme=default&cover=1&latest=1″ width="100%" height="110px" frameborder="0″]