This is an archived article and the information in the article may be outdated. Please look at the time stamp on the story to see when it was last updated.
College students in teams across the nation participate in EcoCAR 3, a competition that challenges them to transform a muscle car into a hybrid!
If you're in an EcoCAR, it's not your typical ride.
Every year, the college competition challenges students in one aspect of building an environmentally friendly car. This year's challenge: modify a Camaro to be hybrid – but keep the horsepower it's known for.
"The challenge specifically is to take a production vehicle and reduce its environmental impact," explained Kristen Wahl, Advanced Vehicle Technology Competitions Director at Argonne National Laboratory.
We were on the scene for the team's last show and tell before the winner was announced that evening. The cars were lined up in the parking lot at the Magic Castle and it was an impressive display of engineering.
"We have put so much time into this car – all of the people on the team really care about what they're doing and it really shows," explained Brianna Antinoro with Ohio State University.
---
Follow KTLA 5 Tech Reporter Rich DeMuro on Social Media for useful tech news, apps & gadgets: 
Facebook: http://facebook.com/RichOnTech
Twitter: http://twitter.com/richdemuro
Instagram: http://instagram.com/richontech
---
Even as a hybrid, the Camaro must be just as powerful and the re-engineered car can't be prohibitively expensive. The competition is all about choices car engineers must make in the real world.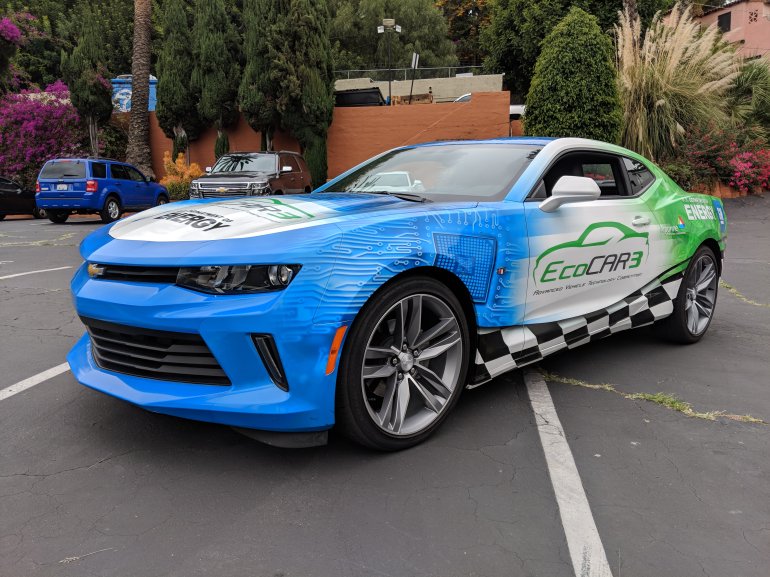 "Beyond just integrating the hardware, there's controlling it, there's making sure [the engine] doesn't fail or overheat or honestly falling out of the car," said Virginia Tech student Jason Parker.
The hybrid version of the car built by his team at Virginia Tech even beat the speed of a stock Camaro in a road test.
"[We] installed a big engine up front and a big powerful motor towards the rear," explained Parker.
While there's prize money and bragging rights – there is way more at stake.
"We're building the next generation of automotive engineers," said Wahl.
"They can come out in the industry and be very productive immediately and that's the big thing that we get out of this," concluded John Haraf of General Motors.
Later that evening, Ohio State was named winner of the EcoCAR 3 challenge. It's the team's fourth win in a row! They take home bragging rights and $10,000. All of the schools get to keep their cars for research.