This is an archived article and the information in the article may be outdated. Please look at the time stamp on the story to see when it was last updated.
Adventures by Disney leads you on unforgettable family vacations in over 25 destinations - here's what it is like to go on one.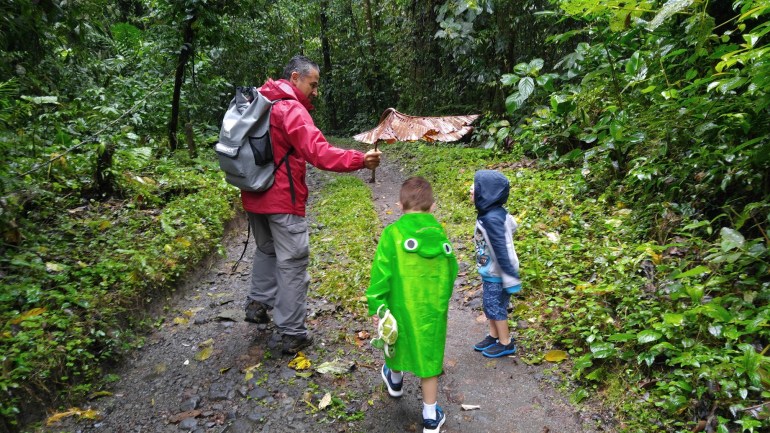 When Disney invited me and my son on a family vacation to Costa Rica, my immediate reaction was "huh, I didn't realize Disney had a hotel in Costa Rica." Turns out, they don't. Adventures by Disney is a tour company - one that puts a Disney twist on the tired family vacation with guided experiences in various destinations around the world.
Personally, I was a bit hesitant to bring my 4 year old to an unfamiliar and far off country, but I put my trust in the Disney name, and a month later we were on a plane bound for San Jose, Costa Rica.
Little did we know the true adventures that lie ahead.
From the moment we landed it was clear Disney has their act together. I was worried since our flight was delayed 3 hours and we would be arriving into San Jose around midnight. But there was the Disney greeter, just like they said, holding up a sign with that familiar logo and our last name.
Follow KTLA Tech Reporter Rich DeMuro on Facebook or Twitter for cool apps, tech tricks & tips!
We were whisked off to our nearby hotel and welcomed by our tour guide for the week, Zoe. Like a cast member you would find in a park, she was full of energy and enthusiasm - even at 12:30 AM.
I was feeling better about everything until she told us the wake up time - around 6 AM.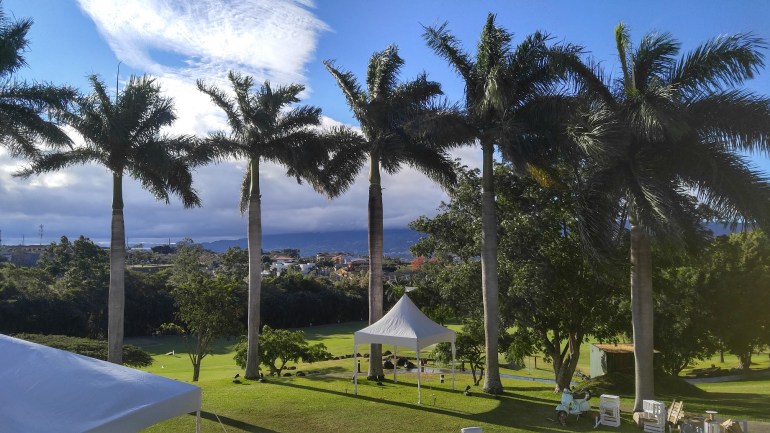 Needless to say, waking up a 4 year old at the crack of dawn was interesting. There was a lot of crying and I thought the trip might be doomed. But we made it downstairs to breakfast at the Marriott and enjoyed a delicious buffet.
There were three times you needed to know each day - when breakfast starts, when your bags must be outside your room and when the bus leaves.
Here's where some Disney magic comes into play. Each day you would leave your bags outside your hotel room where they would be collected and appear in your next hotel room. You don't have to worry about dragging your luggage to the lobby when you switch hotels, which is nice because we would eventually stay in 4 of them!
The tour guides tell the kids that Tinker Bell takes care of them.
Our first adventure - taking a tiny plane to the rainforest coast. We were only allowed to bring a day bag weighing 25 pounds or less and each passenger had to be weighed before we could board. I love to fly and even I was a bit hesitant - especially since the winds in Costa Rica were crazy. Landing in a commercial jetliner was turbulent - I was curious to see how this tiny plane - and my 4 year old - would handle it.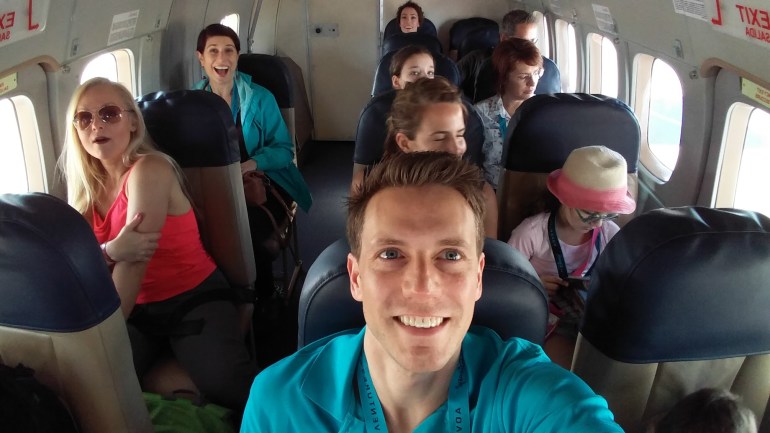 Again, I put my trust in Disney that everything would be OK. Our group split up into two planes and we were off for a 20 minute ride. There were some white knuckles as the plane fought the high winds and bounced around, but my kid fell asleep shortly after takeoff and I was calmed by the pilots I could see up front casually chatting the entire way.
Next, we were whisked away by boat to a remote hotel in the rainforest. It rained non-stop for the next 24 hours. Our rooms were little cabins with no TV's or high end amenities - just two beds, a shower and a fan (which my son thought was a TV, until he took a closer look). Still, it was perfect, and I was beginning to realize just how much emphasis there is on the "Adventures" part of the tour's name.
Since I'm the tech guy, I should mention a bit about connectivity. It was sparse. Out of all of the countries I've been to, Costa Rica is the spottiest for good cell reception. I was fine with that. Cellular service went in and out and WiFi signals were weak when we had them. I stayed connected with my wife back home via Facebook Messenger. The bandwidth barely accommodated texts and calls, so I didn't even try video. I did appreciate how the electrical outlet plugs in Costa Rica are the same as the United States, so no travel adapter or converter necessary!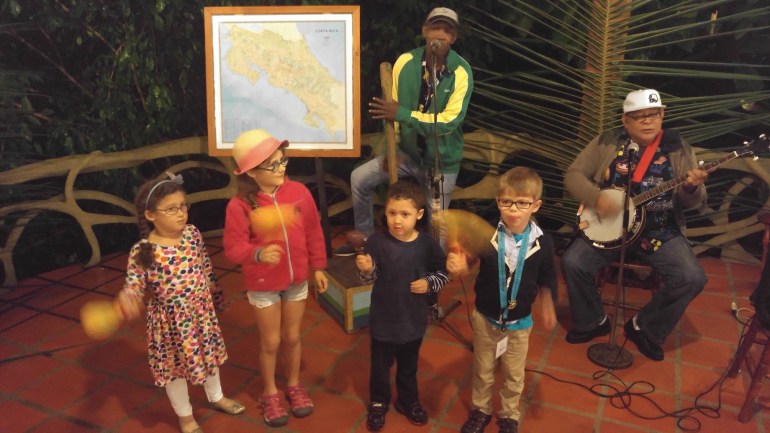 After a long day on a boat exploring the rainforest (mostly in the rain) we were treated to a welcome dinner, Disney style. No, there aren't characters walking around but there is entertainment and a sense that the company has thought of everything. Meals were generally in a semi-private area of the hotels we stayed at, while most other tour groups ate in the main areas. The kids played games such as limbo and musical chairs.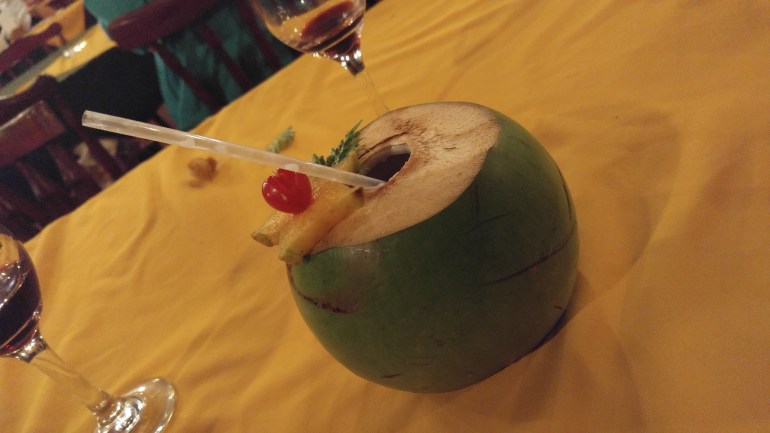 There was always something a little extra as well, like a welcome drink. Of course, it was always non-alcoholic, so the kids could enjoy it too.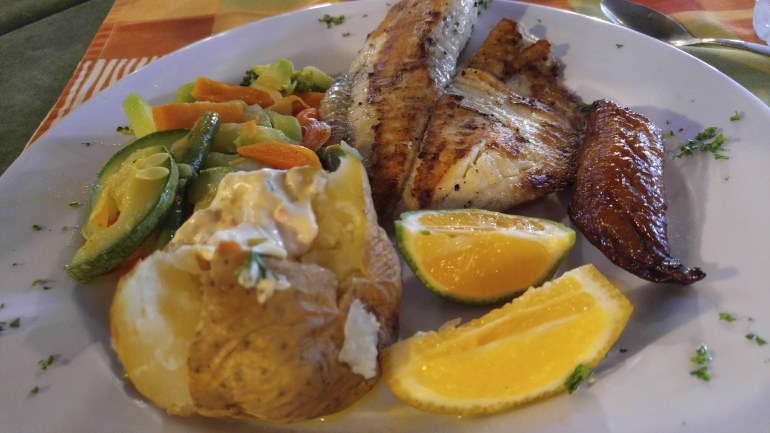 I was thoroughly impressed with the food in Costa Rica and so was my son. A "typical" meal consisted of some sort of meat or fish, plus rice and beans, veggies and plantains. It was perfect. You can even drink the water in most parts of the country, which I did at many of the restaurants we dined at. To make sure there weren't big delays for our large group, Disney had a system for taking orders beforehand on an iPad, then sending our choices ahead of time to the restaurants so they were prepared. If the meal wasn't served buffet style, you picked from a few selections, but it never felt limiting.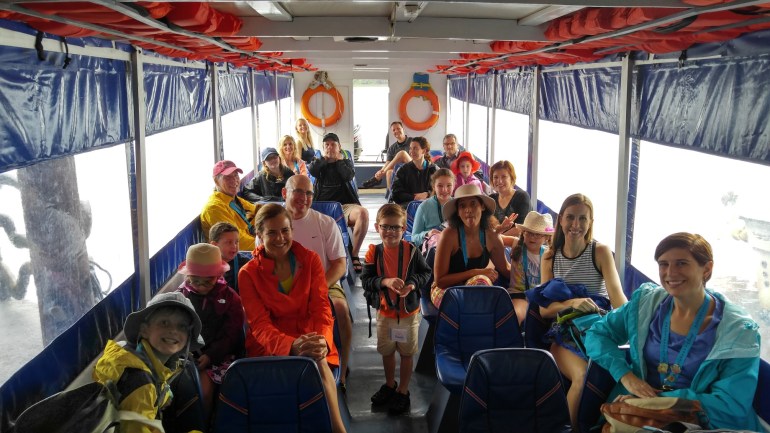 Another long boat ride in the rain - this time an hour and a half - and we were off to our next destination - a pineapple plantation. Here's where an interesting part of the tour comes into play - although you get a booklet with all of the activities clearly laid out, I didn't realize just how far away those activities would be from each other. After our long boat ride, we had another decently long bus ride.
It's probably better this way, but our tour guides (you have two the entire time - one local and one from Disney that goes from tour to tour) kept us on a "need to know" basis. Basically they would tell the group the next event and that's about it. They wouldn't tell us in the morning that we have a 2 hour bus ride followed by a plantation tour followed by another 2 and a half hour bus ride. It's probably better this way, but towards the end of the tour some of us were interested in timing specifics of the activities.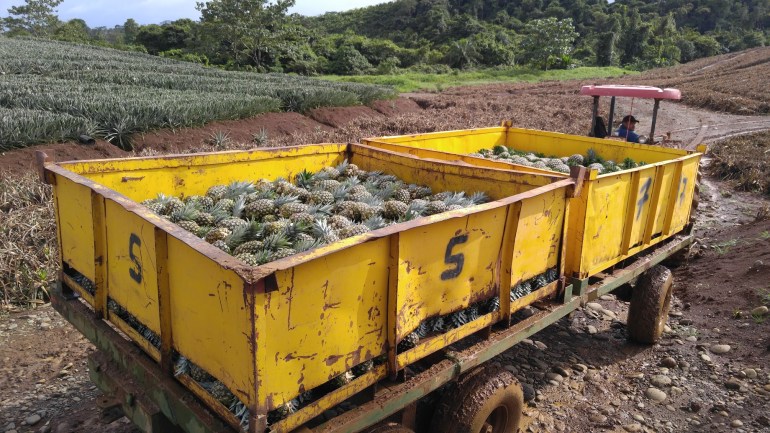 All of the adventures in the trip are well planned out. Our pineapple plantation tour consisted of a tractor ride to the fields where we learned all about growing pineapples, followed by a factory tour and tasting of fresh pineapple, then some fresh pineapple juice while the kids played a pineapple packing game.
Day three into the trip and I didn't think I would ever dry out. We were still in a rainy area of the country about one notch down from a rainforest. Our adventures consisted of zip lining, which I was unable to do with my 4 year old since the minimum age is 8.
The zip lining looked absolutely insane - especially the first run that blasts you into an unknown of fog high atop the mountains. The neat thing here is that Disney always has an alternative for the younger kids or adults who "chicken out." We got to ride a sky tram, which in itself is pretty adventurous since you take a 13 minute ride in a hanging gondola suspended hundreds of feet in the air. After, the kids took a nature walk with our guide Ron, who was born and raised in Costa Rica.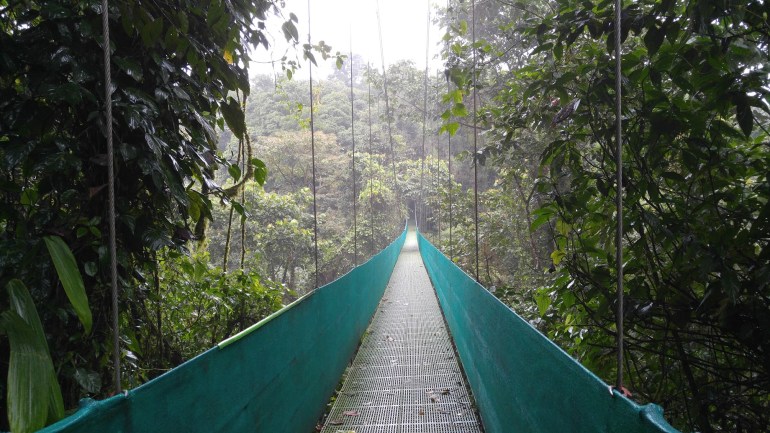 The nature walk featured several hanging bridges, which were interesting to walk over with a little one. You can't tell from this photo but they were suspended several hundred feet into the air and swayed from side to side as you walked on them. I felt like Tarzan, and even saw some of the branches he might swing from.
There was another lengthy bus ride to our next hotel, which they filled in various ways - tour guide explanations on history, animals and the countryside - and Disney movies. We stopped for a bathroom break and there was a sweet treat waiting for us - some sort of fried dough with syrup you drizzle on it. I ate it all.
Next we stayed in the volcano area of Arenal for two nights. Again, the hotels aren't five stars but they are more than sufficient. At this point our tour group - which consisted of journalists from around the country and Disney PR folks - were almost convinced we would not see any sun on our trip. Still, the views were amazing. That night we headed to a natural hot springs where the adults and kids relaxed in nature's hot tubs.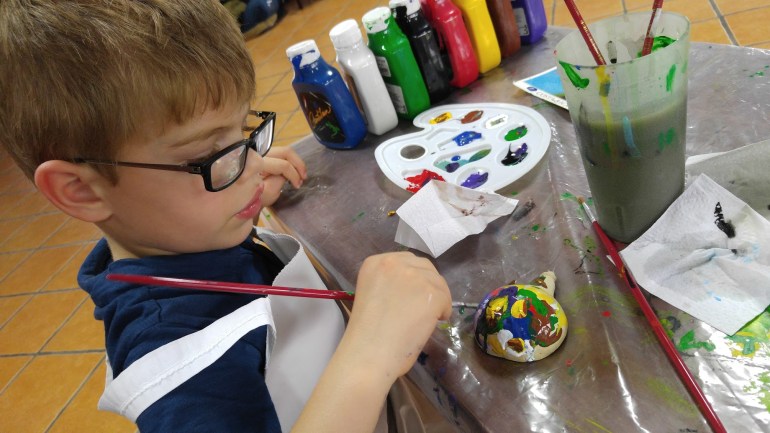 Before dinner, another activity for the kids (and adults) - learning from the natives about how they paint items. It's something I almost skipped but it is these little extras that make this a Disney trip and not your typical tour. Over and over there were so many times where the attention to detail is very apparent.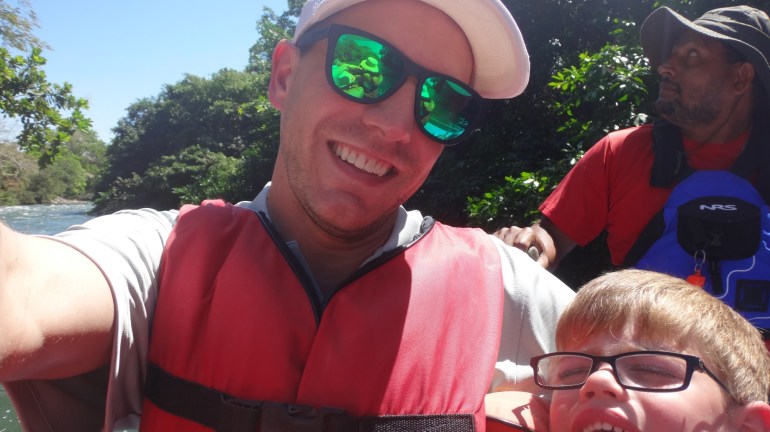 The next day brought us to another location closer to the Pacific coast of Costa Rica - and some much needed sun! White water rafting was the main highlight - another activity I couldn't do with my 4 year old but there was an alternative rafting trip planned for us on a less intense river. All Adventures by Disney trips have a recommended age (in this case, 8) and a minimum age (4). This accommodates more families and there is always an alternative activity for the littlest ones. Also, my son became fast friends with another 4 year old on the trip, so we had some company on our alternative activities, which were not as exhilarating, but just as fun.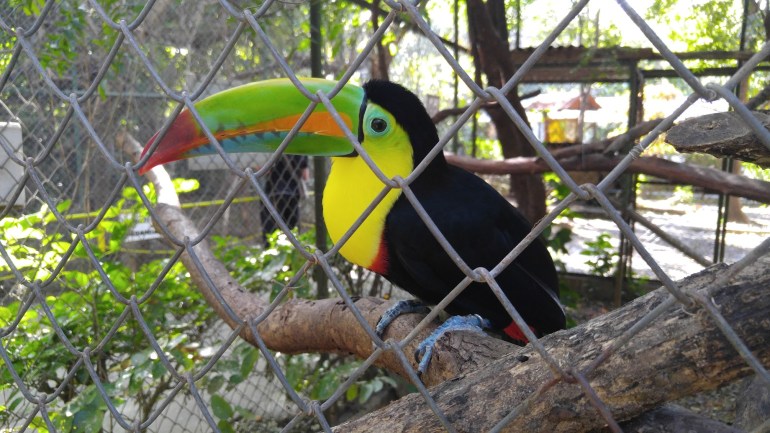 Because our less intense rafting trip was shorter than the whitewater rafters, we had some bonus time to explore a nearby animal rescue zoo. This surprise turned out to a be a highlight of the trip - we got up close and personal with all kinds of exotic animals. The kids loved it.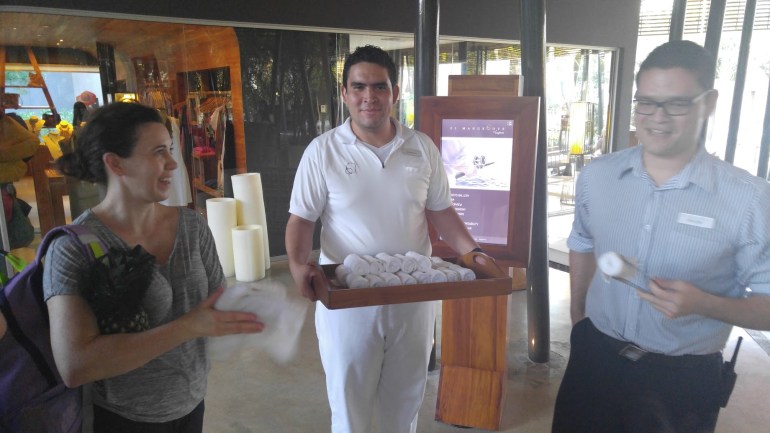 With the biggest adventures behind us, it was time for us to check into our final hotel. We were staying in El Mangroove, a beautiful oceanfront area near the Liberia airport, which is where we would be departing from. Most importantly, the rain was now a distant memory.
Upon arrival, the hotel greeted our group with cool towels and a watermelon juice drink. I got the impression that the local businesses Disney interacts with really value the relationship. Everything is handled in the background - room assignments, logistics and more. This frees up "Adventurers," as they call them, to focus on the experience of the trip and not the little details like check in or check out.
Room keys are handed out upon arrival and collected upon departure. Almost every meal, drink and snack is taken care of, although there are times when you can pay for extras such as additional alcoholic drinks at dinner or items from the in room mini-bars.
Disney planned the remaining two days of the trip well. After many adventures in planes, boats, the jungle and more - were were free to relax in the sun.
The first night was also an adults-only dinner, which is just what the parents needed by this time. While the kids had a private dinner and (Disney) movie night in a hotel conference room, the adults got to enjoy a quiet beachside dinner under the stars.
I was a bit nervous to let my child leave my side in foreign country, but by this time we all knew our tour guides - Zoe and Ron - very well. They would be supervising the kids, and by the end of the night many were sound asleep.
Our final day in Costa Rica consisted of an early morning catamaran ride, which we skipped to soak up the sun. It was a tough decision and we missed some of the splendor of the coastline, but we had an equally amazing day playing in the ocean and swimming in the pool. The group returned around noon, so it wasn't too bad.
After getting totally sunburned, it was time for our farewell events. A Mojito making lesson for the adults and mango juice making for the kids.
Next, we enjoyed some traditional dancing and it was time for our farewell dinner. By this time, all of the adults on the trip were friends and the kids knew each other well. The shared adventures bonded families and strangers. I have no doubt many families keep in touch long after they return home.
Overall, the Adventures by Disney experience is one you can't forget. I truly had no idea just how adventurous the itinerary would be, as most of my vacations consist of lounging poolside and perhaps participating in a local activity or two. This trip forced me to rethink what a vacation should be.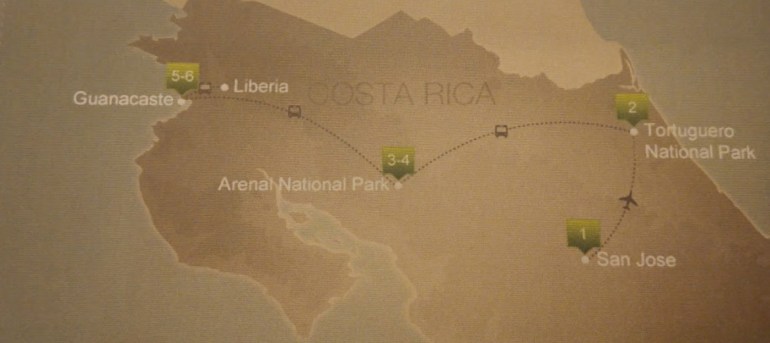 Although it was a non-stop and ambitious itinerary, I truly feel like I've "done" Costa Rica. I know the history, the food, the people, and the different regions. Adventures by Disney forced me out of my typical vacation comfort zone and more importantly, forged unforgettable memories for me and my son.
It's what Disney does best - but this time, outside of a theme park.
More:
https://www.adventuresbydisney.com/