This is an archived article and the information in the article may be outdated. Please look at the time stamp on the story to see when it was last updated.
Can Virtual Reality make a long plane flight more enjoyable?
Google's $80 Daydream View virtual reality headset is a slick way to experience the world in 360 degrees. You can visit far off places, watch 360 degree videos or immerse yourself with a movie in your own private theater.
Follow KTLA Tech Reporter Rich DeMuro on Facebook or Twitter for cool apps, tech tricks & tips!
It got me to thinking – would this make a plane flight more enjoyable?
To find out, I took it on a recent cross country flight.
Daydream View works by putting your smartphone into the specially designed headset, which has lenses inside that magnify the screen and make it envelop your field of vision. What's unique about Daydream is that it also comes with a little remote control that works like a virtual laser pointer so it's easy to navigate through apps.
Right now the device works with two models of Android phones – the Google Pixel and the Moto Z. I downloaded a movie before the flight and had it ready to go.
The verdict? While it was pretty neat to watch a movie on a giant virtual screen, I found that the system got too hot on my face and too heavy on my head to get through an entire film. I ended up watching about 38 minutes of a 2 hour movie (War Dogs, which I really enjoyed, BTW.) I watched the rest on my phone sitting on the tray table using my KeyProp.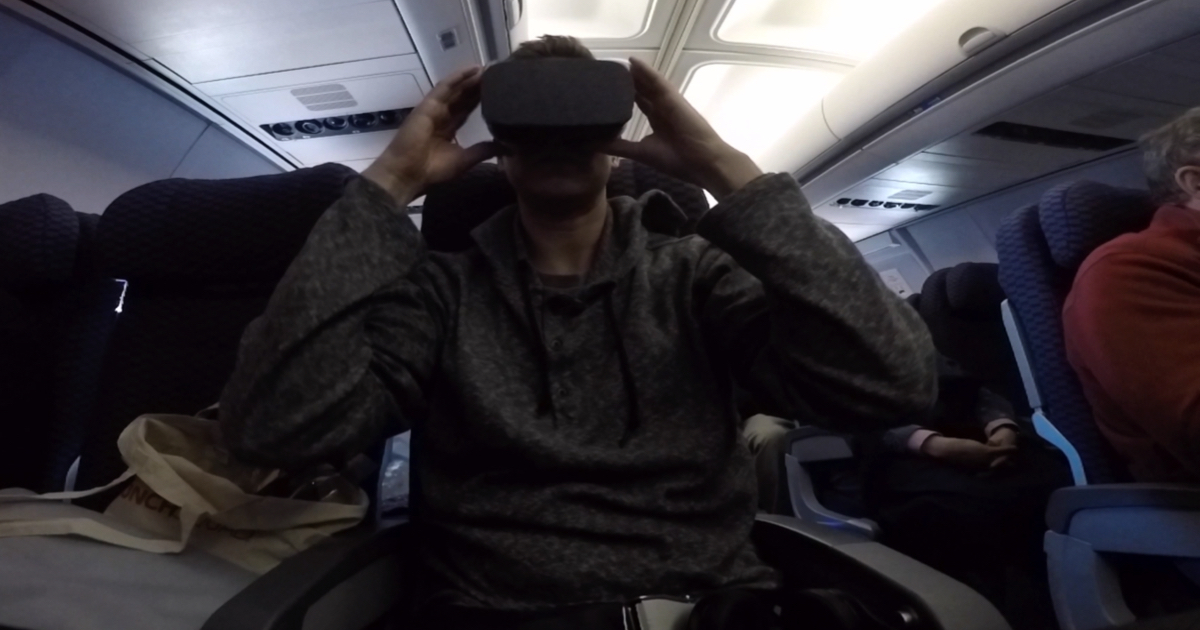 As for the other passengers, they didn't seem too phased by a guy in a VR headset. No one said anything to me about what I was doing, although I was concerned they might think I was a total weirdo.
For another opinion, I asked my pal David Ruddock, editor at the website Android Police. He recently wrote an article about flying with the Google Daydream View as well.
He was able to watch an entire movie, but we both agree that while this technology is amazing and continues to get better, it's not there just yet.
Still, at $80, Daydream View puts a really neat spin on Virtual Reality and is one of the best and easiest to use devices on the market. One thing I noticed by travelling with them is that they do pick up some crumbs and dust. Anything on the lenses is really magnified and distracting when you're trying to watch.
Sidenote – if you want a taste of what VR can offer and you don't have a phone that works with Daydream or you're not ready to spend $80, check out the inexpensive Google Cardboard headset. It also works with iPhone in a limited way, I'd recommend checking out a 360 video on YouTube.
Learn more:
Listen to an extended interview with David Ruddock below and subscribe to the Rich On Tech podcast here.
https://soundcloud.com/richdemuro/using-google-daydream-view-virtual-reality-on-a-flight