This is an archived article and the information in the article may be outdated. Please look at the time stamp on the story to see when it was last updated.
A company called Ember makes a high tech heating mug that keeps your coffee at your perfect temperature the entire time you're drinking it.
Follow KTLA Tech Reporter Rich DeMuro on Facebook or Twitter for cool apps, tech tricks & tips!
Clay Alexander is a lively guy. The CEO of Ember Technologies lights up with enthusiasm when you ask him about his latest invention: a coffee mug that heats up.
"People are saying... this coffee mug has changed my life!!!" blurts out Alexander.
We're hanging out in his Westlake Village, California offices. An unlikely place for a high tech startup. Alexander explains that he chose this suburban city because it wasn't Silicon Valley.
Ember's first product is a connected coffee mug with a built in heating element, Bluetooth and enough sensors to run a small home. Pour some coffee in and the unit goes to work. It automatically senses the temperature of the drink and cools it down to your desired level and keeps it there.
Alexander came up with the idea several years ago. Early prototypes were crude, but the basic idea has remained the same. Make coffee drinkable from the first sip to the last.
"It just kind of blew my mind. I thought, man, I bet the world would be interested in this," said Alexander of his first prototype.
Ember's first mug is sleek - the kind of product Apple itself might design. There are no buttons, no gaudy dials and it looks and feels like a regular mug. Way less bulky than I had imagined. Alexander says that's because he insisted on hiring engineers who have previously worked on cell phones - they knew how to cram a bunch of tech into a tight space.
Coffee is generally served at around 160 degrees - way too hot for consumption. So people spend the first few minutes waiting for it to cool down to a reasonable temperature. Then, a few great sips and it begins the quick descent into the cold.
But not if you pour your drink into an Ember mug. The bottom doubles as a dial - turn it and an invisible digital screen magically comes to life. Here, you can see the current temperature of your drink. Just turn the dial to lock in your perfect temperature.
Alexander says most people like coffee around 130 or so and a few degrees hotter for tea. I tried several temperatures until I settled on 135.
I've now used a mug Ember sent me for review purposes on many mornings, and it's tough to go back to my old fashioned coffee ways. Sure, you have to charge it each night and the heating effect doesn't last as long as you think (about 2 hours), but it is strangely satisfying to drink a cup of coffee at a constant temperature the entire time. I'm so used to that final freezing cold sip that my brain is having a tough time adjusting to the fact that the last sip is really the last, since it's just as perfect as the first.
When Starbucks began to sell the mugs in some of their stores, they couldn't keep them on the shelves. The $150 mug would sell out almost immediately. It created a buzz for the mug, which began its life on Indiegogo. They are now available on Amazon.
Still, a $150 heated coffee mug is a big sell to a lot of people who are perfectly fine with their Thermos or paper cups. That's why Alexander is selling up the finer aspects of a perfect cup of joe.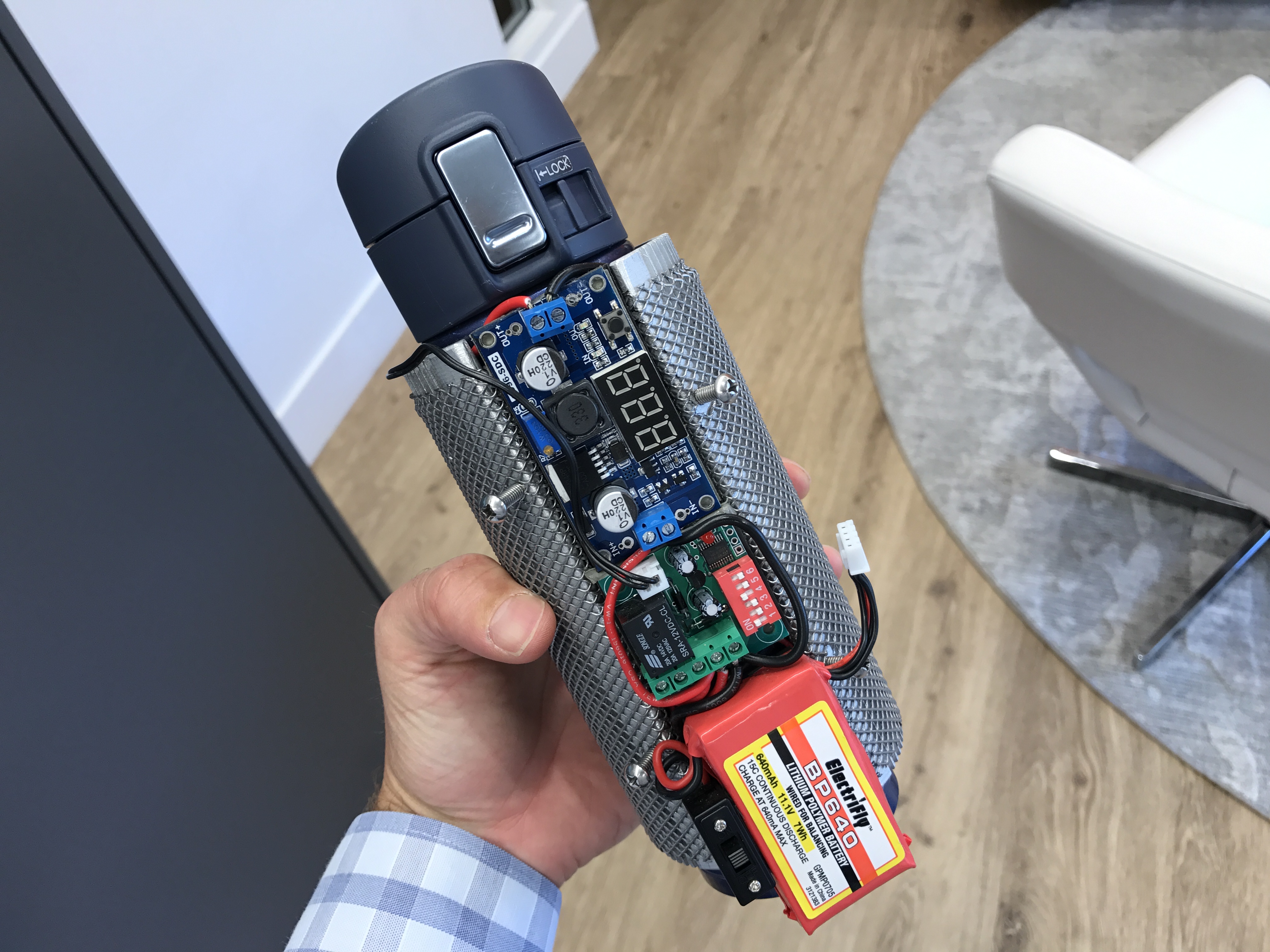 "That's what Ember is about - bringing out the flavor and the taste of the coffee at the perfect temperature," says Alexander.
I can't argue with him. The cup of fresh ground coffee he made me in his office was among the best I've ever had - no sugar, just a little cream. And it stayed warm throughout our entire interview.
The company has a lot in the pipeline. First, a line of Ember mugs in various colors. Later, applying the same Ember warming technology to various things, like baby bottles.
Nobody should suffer through that final cold, cruel sip - now, they don't have to.
Learn more: