This is an archived article and the information in the article may be outdated. Please look at the time stamp on the story to see when it was last updated.
Chick-fil-A is celebrating the launch of their new mobile app by giving away free sandwiches. Here is how to get yours.
Chick-fil-A is one of my favorite lunchtime stops – you can't beat the combination of friendly workers and a deliciously fried chicken sandwich. Now the famously-closed-on-Sundays fast food spot has a brand new app. To celebrate, they're giving away a free sandwich to just about everyone who downloads it – but there is one more thing you must do to actually nab your free lunch. Here's how to do it.
First, download and install the new Chick-Fil-A One app for iOS or Android. If you really want to be fancy, send out a tweet with the hashtag #CFAOne and cow emoji 🐄 and they'll tweet you back with a link.
YUM! #CFAOne 🐄

— Rich DeMuro (@richdemuro) June 2, 2016
Now for the important part – you have to sign up for a Chick-fil-A account to get your free sandwich. Don't worry, it's basically a loyalty program like Ralph's Club – you don't have to put in your credit card or anything. Just sign up with your email address and a (unique!) password. Then, answer a security question and you're good to go.
There are now two ways to choose your free sandwich. Scroll down on the home screen until you see a box labeled "available treats." You'll see an option to choose a "free treat" just because. You get a choice of the original sandwich, spicy sandwich or the grilled sandwich (maybe this option is just for folks in LA?). That's all there is to it. Just press choose when you're at the restaurant and you'll get a QR code the cashier will scan for your free sandwich.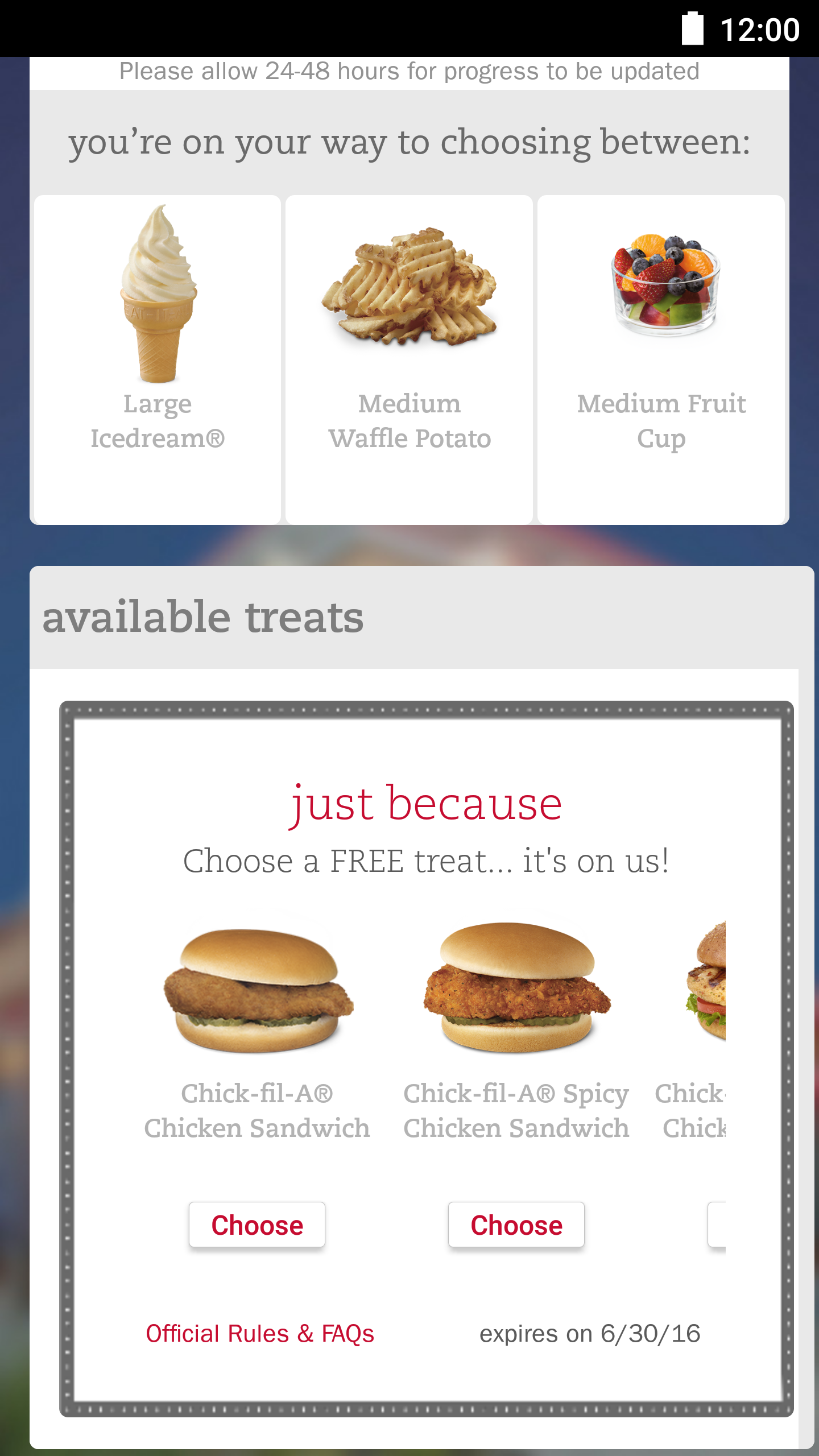 A few things to keep in mind – you must download and sign up for an account by June 11 to get the option for a free sandwich. But once you do this you have until June 30 to actually redeem your free sandwich. Not counting Sundays, that means you have about 24 days to plan your next visit. Your toughest decision will be which sauce to pick.
Like this article? Share it with your Facebook Friends!