This is an archived article and the information in the article may be outdated. Please look at the time stamp on the story to see when it was last updated.
VAVA Dash Cam is the camera that you'll actually want to have in your car. Plus, check out my code that brings the price to under $100!
Many of the dash cams I've seen are the same - unattractive little black boxes with a maze of menu options and confusing setups. VAVA Dash Cam is immediately different because it actually has a great design - and a connected mobile app that makes modifying settings and downloading clips super simple. In fact, there are hardly any buttons on the VAVA Cam.
Follow KTLA Tech Reporter Rich DeMuro on Facebook or Twitter for cool apps, tech tricks & tips!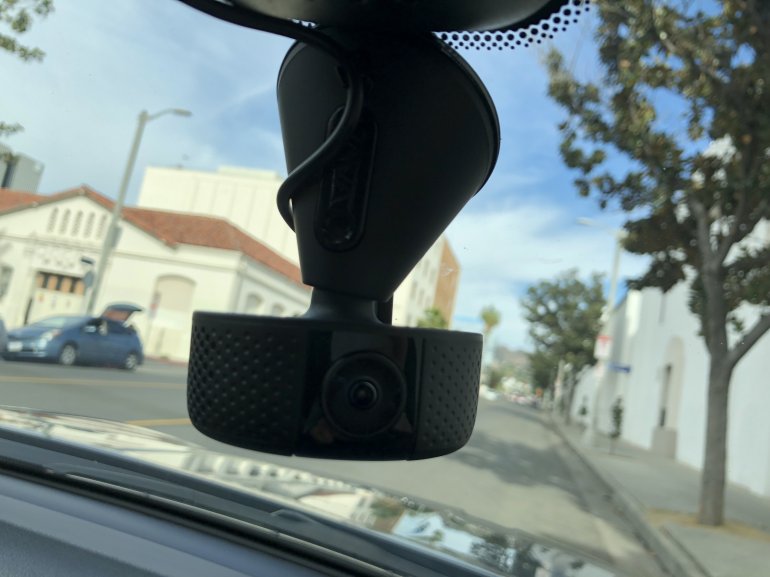 Installation is a breeze - snap the mount to your windshield, then the VAVA cam attaches to the mount magnetically. This allows you to swivel the camera 360 degrees for a view up ahead, or inside your car or anywhere in between. You can also easily remove the camera in seconds. You do have to run a power cable to a DC connector in your car. VAVA even includes a pry tool to help you hide the cable. There is a GPS module in the line that you stick to your windshield to stamp your videos with their location.
To set up the camera, you download the VAVA app to your phone and connect to the camera's built-in WiFi network. This doesn't provide internet but it does help connect your phone to the camera and allows you to download footage later over a high-speed wireless connection. You'll need to buy a micro SD card to record footage. It accepts up to a 128-gigabyte card. I used a 32 GB card which gives me about 4 hours of looping video.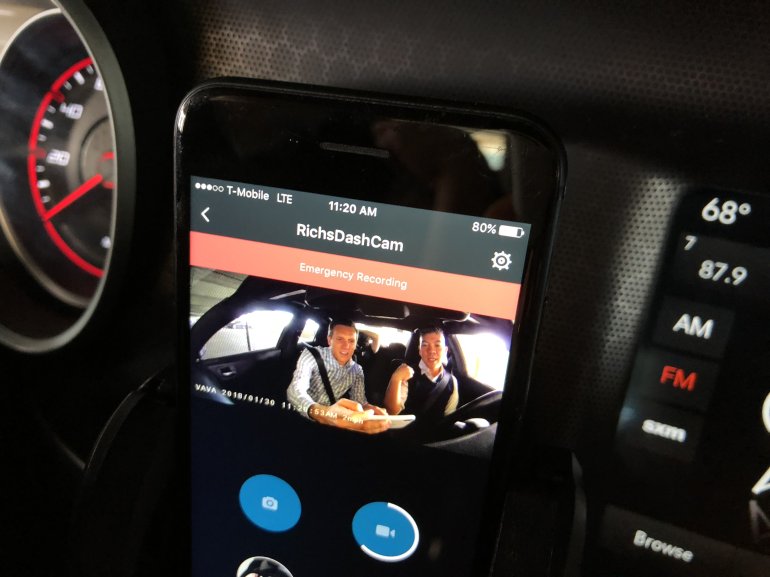 After this, it's pretty simple. When you turn on your car, the VAVA starts recording a continuous loop of HD video. Think of it as a DVR for everything that's happening outside your windshield. You can see all of your clips on the app for easy downloading to your phone. The app also keeps track of every drive on a map, which is a neat little feature. There is one more part to the puzzle - a little button you can stick on your dashboard. Press it once and it will take a snapshot of what the camera sees. Press and hold it down for a few seconds and it will start recording a 20-second clip that is saved forever - these manually trigged images and video are not overwritten.
Some other things to know - the camera lens is wide angle, so it captures a really good amount of the road. The video clips are clear and you can easily make out things like faces and license plates. There is also a G sensor in the VAVA you can activate. This means if it feels your car move while it's parked, the camera will turn on and start recording a clip. This feature lasts about 30 days with the internal battery - you can extend that time with an additional accessory. Keep in mind the camera also captures audio at all times.
The only little critique I have of the VAVA cam is that I wished it recorded video of the front and back of the camera at the same time. Sure, you can swivel the camera to see inside your car or a rear view, but it would be ideal to have what's happening ahead and behind captured at the same time. Perhaps a future model will feature this or true 360-degree video.
Driving with the VAVA cam is an absolute confidence boost. You feel in command of the road and a renewed sense of confidence that if something happens, VAVA is there to capture it. This could be something as serious as an accident or just something interesting on the road ahead. My test unit has captured the Las Vegas strip, smoke from a fire, cars blowing through stop signs and more. It's a nice feeling to know that there is an extra set of eyes on the road at all times.
[protected-iframe id="748a7cd78bfa111254ebd4c79d23dae7-41641936-42315212" info="https://player.pippa.io/5a788c1e77abb830441900e8/episodes/vava-dash-cam-review-useful-features-at-a-great-price?theme=default&latest=1" width="100%" height="110px" frameborder="0"]
VAVA Dash Cam is normally $130 but you can use my code RICHONTECH at checkout on Amazon for a special price of $95.99. That's an amazing value for such a full-featured camera and according to CamelCamelCamel, $23 less than the lowest price it has sold for in the past. Code expires 02/24/2018 at 11:59 PM PST.