This is an archived article and the information in the article may be outdated. Please look at the time stamp on the story to see when it was last updated.
PASADENA, Calif (KTLA) – Three local men were treated to Hollywood-style Father's Day makeovers on Sunday in Pasadena.
As part of a special KTLA Morning News segment called "Makeover My Dad," the men were given a day of pampering at Salon 18/8, which specializes in men's grooming.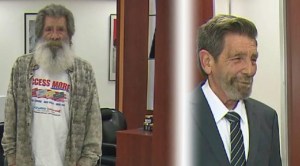 The proud papas received haircuts, they had their nose hairs trimmed and their faces shaved.
Hollywood Suits also dressed the men in brand new outfits.