This is an archived article and the information in the article may be outdated. Please look at the time stamp on the story to see when it was last updated.
[protected-iframe id="18ac08a012e32bbb65a3d939b03f693a-41641936-52137988″ info="http://embed.newsinc.com/Single/iframe.html?WID=2&VID=25529723&freewheel=91045&sitesection=ktla&height=360&width=640″ width="640″ height="360″ scrolling="no"]
Morgan Welge hit the jackpot — twice — on a recent episode of "The Price Is Right."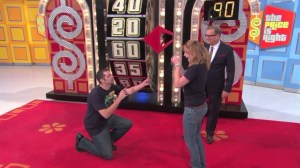 The 25-year-old teacher from Elk Ridge, Calif., said "yes" after her boyfriend surprised her with a marriage proposal as host Drew Carey looked on.
Welge then went on to win a $36,000 prize package in the game's "showcase showdown."