This is an archived article and the information in the article may be outdated. Please look at the time stamp on the story to see when it was last updated.
NEW YORK — The FBI is investigating the theft of $1.2 million from Swiss International Airlines Flight 17, which arrived at New York's JFK International Airport from Zurich, Switzerland, on Saturday afternoon, a spokesman said Tuesday. The money was in $100 bills, J. Peter Donald said, adding it's still unclear when it was stolen.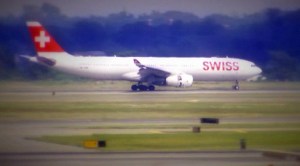 Flight 17 was a passenger flight with air cargo, including a shipment of currency, according to another FBI spokesman, Jim Margolin. After the plane landed, the shipment of cash was discovered to be $1.2 million short. Margolin said investigators have not determined whether the money was taken before the flight left Zurich.
He said the cash was missing from a container that the bank uses to transfer currency, which is loaded into a larger cargo container. He said it would take a forklift to lower the currency container into the larger container, or to remove it.
A law enforcement official with knowledge of the investigation said the money was headed to the Federal Reserve. Andrea Priest, a spokeswoman for the Federal Reserve Bank of New York, had no comment.
Click here to read the full store on CNN.com.