This is an archived article and the information in the article may be outdated. Please look at the time stamp on the story to see when it was last updated.
One person was killed and another was missing after a Navy helicopter attempted to make an emergency water landing off Virginia Beach, Va., during a routine training operation Wednesday, authorities said.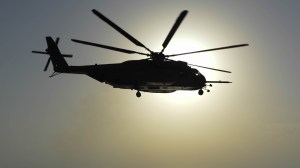 A total of five people were on board the MH-53E Sea Dragon when the incident happened.
Four sailors were initially rescued and taken to Sentara Norfolk General Hospital, Navy officials said in a statement. The fatality appeared to have been among the crew members who were rescued, according to CNN.
Two of the sailors were reported to be in stable condition, while a third was preparing for surgery, CNN reported.
Search-and-rescue efforts were underway near Fort Story for the missing crew member, according to the Navy.
Authorities have not yet released the identities of those who were on board the helicopter. The name of the sailor who died would be released 24 hours after family was notified, the Navy statement read.
The helicopter was assigned to a squadron based at Naval Station Norfolk Chambers Field.
The cause of the crash was under investigation.
CNN contributed to this report.