This is an archived article and the information in the article may be outdated. Please look at the time stamp on the story to see when it was last updated.
At least one driver and possibly a second was facing felony hit-and-run charges after colliding with a 14-year-old girl who ran into traffic in Santa Ana, police said Tuesday.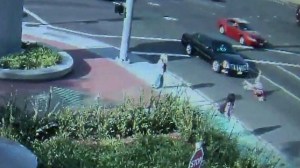 The teen was crossing in an intersection at 17th and Bristol streets (map) when she was hit by a red pickup truck and then a dark sedan — possibly a black Cadillac — at about 4:10 p.m. Monday.
She was crossing against the light on her way to Santa Ana College, and multiple lanes of traffic had the right-of-way when she was hit, according to Santa Ana Police Department Cpl. Anthony Bertagna.
"She crossed against the red … Obviously he didn't see her. She jetted out in front of him," Bertagna said.
"Had both drivers stayed at the scene, this would have been the 14-year-old's fault," he said. "She was responsible for what happened."
Surveillance video released Tuesday showed the impact. The girl tried to get up, but her knee buckled and she fell in the roadway.
The truck stopped a hundred yards or so away but then the motorist returned to the vehicle and drove away, Bertagna said.
A witnessed followed him from the scene and called police; he was arrested.
The driver was identified as Adan Camacho, 32, of Santa Ana. He was booked into jail for felony hit-and-run and driving without a valid license.
As shown in the surveillance video, the driver of a second vehicle that hit the girl stopped to check on her.
"She actually picks up the victim's backpack and appears to be looking into her care, and then for whatever reason, she gets back into her car and leaves the scene without identifying herself as being involved in the accident," Bertagna said. "We're hoping … she'll come forward and we can straighten this out."
The girl was hospitalized with leg injuries and was released Tuesday, police said.
Camacho was being held at Theo Lacy Facility and was due in court Wednesday.
KTLA's Chip Yost contributed to this article.