This is an archived article and the information in the article may be outdated. Please look at the time stamp on the story to see when it was last updated.
Two people were arrested Saturday in connection with a deadly shooting outside a party bus in Hollywood, authorities said.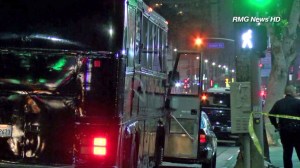 One man was killed and a second injured when gunfire rang out Friday around 11:45 p.m. in the 6100 block of Sunset Boulevard (map), according to the Los Angeles Police Department.
The bus had traveled to Hollywood from Compton when the shooting unfolded, the LAPD said.
"It stopped over here at the corner of El Centro and Sunset so the occupants could get out and use the restroom," Captain Peter Zarcone told KTLA 5.
An argument broke out as the victims re-boarded the bus, leading to a shooting in front of the Hollywood Palladium, Zarcone said.
Paramedics transported the two victims to an area hospital, but one died, police said.  The second man was in critical condition.
At the time of the shooting, a concert was letting out at the Palladium leading to chaos in the area, witnesses said.
"It was like gunshots let off.  It was pretty loud.  I just didn't know what to do," Trevor Garcia, who was in the neighborhood at the time, told KTLA 5.
"A crazy Hollywood night on a Friday night," Garcia said.
Sunset Boulevard was blocked off between Gower Street and Argyle Avenue for several hours as police searched for clues.
Investigators believe the shooting was gang related.