This is an archived article and the information in the article may be outdated. Please look at the time stamp on the story to see when it was last updated.
COSTA MESA, Calif. (KTLA) — A bomb squad was searching a home in Costa Mesa on Monday where a man apparently blew himself up with homemade explosives.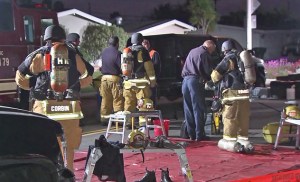 At least 16 homes in the area were evacuated as a precaution.
According to police, the blast happened a residence in the 3100 block of Bermuda Drive between 7:30 p.m. and 8 p.m. Sunday.
Neighbors said that, on Sunday evening, the man who owns the home was lying face down on his front lawn.
An ambulance was called, but he refused to go to the hospital and was combative with responders, witnesses said.
The man went back into the house and, about and hour and a half later, neighbors heard a loud bang.
Emergency personnel again responded to the home, and they found the man dead in the doorway.
Authorities said that two pipe bombs were found near his body. One had detonated and the other had not.
"We've had three improvised explosive devices that look like basically makeshift pipe bombs," said Costa Mesa police Sgt. Jerry Hildeman.
"The bomb squad has gone through the entire residence, and we don't believe there are any further devices at this time," he added.
"However, we do have a standby contingent in case we trip upon anything else."
Police have not identified the man, but the Los Angeles Times reports that he had written a rambling 17,000-word essay warning of the dangers in his house.
The document was authored by a man who identifies himself as Kevin Harris. Public records confirm that Harris, 55, lived at the house.
"I am at 3152 Bermuda Dr., Costa Mesa, CA, USA. You can tell it's me because I am the only one who can get into my house," the document reads.
"I think it may be dangerous for you to come to my house alone," it says.
The essay, entitled "The Pricker: A True Story of Assassination, Terrorism And High Treason," includes references to aliens, the O.J. Simpson trial and the U.S. government.
It also references "the pricker," which the author describes as "an assassin's weapon that deposits biological agents into a victim's skin, on contact, without their knowledge."
The document appears to have been written in 2002 and updated in 2005, according to the Times. The website labels it a "draft of a work in progress."