This is an archived article and the information in the article may be outdated. Please look at the time stamp on the story to see when it was last updated.
A man in his early 20s was found dead while three other men were found injured after the Los Angeles Police Department responded to a shooting call on Sunday morning, authorities said.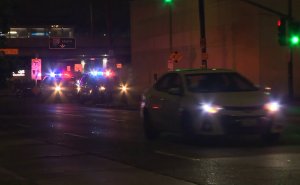 Authorities went to the call around 1:30 a.m. at West Manchester and South Grand Avenues near the 110 Freeway and found four men with gunshot wounds, said LAPD Sgt. Thomas Bojorquez.
The deceased man was in his early 20s while the others were in their early 20s or late teens, Bojorquez said.
No information was immediately released about suspect, Bojorquez said.