This is an archived article and the information in the article may be outdated. Please look at the time stamp on the story to see when it was last updated.
A gunman was on the loose Thursday following a shooting outside a Del Taco in Silver Lake that left one man dead and possibly began with an argument during a graduation ceremony at a nearby school.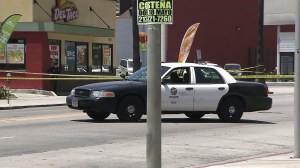 Officers responded to an assault with a deadly weapon call about 11:30 a.m. and found the victim in the 4300 block of Sunset Boulevard (map), Los Angeles Police Department Officer Sally Madera said.
The victim was taken to the hospital, where he later died, LAPD Officer Bruce Borihanh said.
Witnesses reported hearing multiple gunshots coming from the Del Taco.
"Pop, pop, pop, pop," said witness Jim Mortimer. "Some of the family members were there and they started screaming."
The gunman took off in a dark-colored vehicle and was still outstanding, according to Officer Drake Madison of the LAPD.
The incident took place after an eighth-grade culmination ceremony at nearby Thomas Starr King Middle School, which was placed on lockdown following the shooting, according to a Los Angeles Unified School District spokeswoman.
An altercation occurred between two men at the ceremony and proceeded up the street to the Del Taco, the neighborhood newspaper the Los Feliz Ledger reported, citing unnamed sources.
"This altercation may have taken place during the culmination ceremony, but according to school staff, no one was aware of it," LAUSD spokeswoman Monica Carazo said in an email.
The victim was the older brother of a student who was graduating, the Ledger reported. Carazo could not confirm that.
The motive for the shooting was unclear, but it was believed to be gang related, Borihanh said.
Sunset Boulevard was shut down during the investigation.
 KTLA's Melissa Pamer, Ashley Soley-Cerro and Steve Kuzj contributed to this article.