This is an archived article and the information in the article may be outdated. Please look at the time stamp on the story to see when it was last updated.
VAN NUYS, Calif. (KTLA) — One person was shot and wounded by a Los Angeles County sheriff's deputy Wednesday.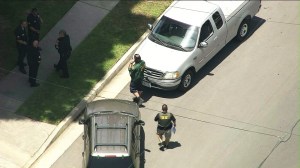 The wounded person had been under surveillance prior to the shooting, officials said.
The condition of the person was not immediately known.
No deputies were injured in the incident.
There was no word on what may have led to the shooting.
The Los Angeles Police Department was assisting in the investigation.