This is an archived article and the information in the article may be outdated. Please look at the time stamp on the story to see when it was last updated.
Authorities on Tuesday afternoon released the identity of an 18-year-old who was fatally shot in a triple shooting in Pasadena that left two other teens injured.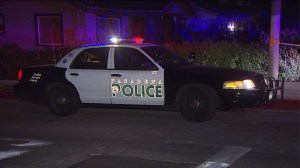 The shooting was reported around 9:45 p.m. Monday in the 1400 block of El Sereno Avenue (map), according to police.
When officers arrived, they discovered that three teens had been shot in front of a residence.
The victim killed in the shooting was identified as Steven Ascencio, from Pasadena, according to the Los Angeles County coroner's office.
An unidentified 17-year-old and 19-year-old were taken to a local hospital and treated for their wounds.
Police released few details about the shooting, but according to Lt. Terysa Rojas of the Pasadena Police Department, the gunshots appeared to come from a moving vehicle.
KTLA's Jennifer Gould and Jennifer Thang contributed to this report.