This is an archived article and the information in the article may be outdated. Please look at the time stamp on the story to see when it was last updated.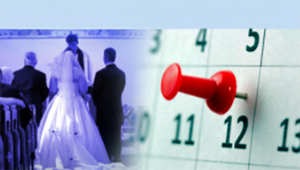 LOS ANGELES (KTLA) — 12-12-12 is here. It's a calendar quirk that has brides running to the altar and expectant parents hoping for an unusual birthday for their children.
Courthouses in Las Vegas and across the country are bracing for a flood of brides and grooms — who should have no problem remembering their wedding anniversary.
The date also marks what some people believe will be the greatest concert lineup of all time: the 121212 Concert to raise money for the victims of Superstorm Sandy.
The concert will be held Wednesday night at New York's Madison Square Garden.
It will feature Bruce Springsteen, the Rolling Stones, the Who and Paul McCartney, to name just a few.
But not everything associated with 12-12-12 is so upbeat.
There are some who believe that the Mayan calendar suggests that the world will come to an end on 12-12-12. Others believe that Doomsday is actually 12-21-12.
One thing is certain: Unless someone figures out how to make us live forever, none of us will ever see a date on the calendar like 12-12-12 again.