This is an archived article and the information in the article may be outdated. Please look at the time stamp on the story to see when it was last updated.
BALDWIN PARK, Calif. (KTLA) — At least a dozen people were injured in a crash involving an overturned cement truck on the 605 Freeway on Tuesday, authorities said.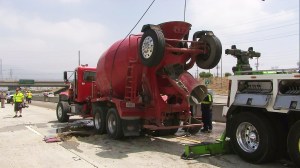 It happened around 10:10 a.m. on the southbound 605 at Live Oak Avenue.
Three people were critically injured and nine others suffered minor injuries, according to the Los Angeles County Fire Department.
Approximately 30 gallons of diesel fuel spilled onto the roadway, authorities said. Hazmat units were responding to clean up the spill.
The No. 1, 2 and 3 lanes were blocked, and only one lane was open.
A SigAlert was issued around 10:20 a.m. and was expected to last for about two hours.
All freeway lanes were reopened around 1 p.m.
The cause of the crash was under investigation.