This is an archived article and the information in the article may be outdated. Please look at the time stamp on the story to see when it was last updated.
A 13-year-old boy was arrested Saturday for allegedly stabbing a 14-year-old student to death with a pair of scissors in front of an East L.A. middle school the previous day.
Friends identified Steven Cruz as the boy who was fatally stabbed in front of David Wark Griffith Junior High School at 4765 East Fourth St. (map) around 3 p.m. Friday.
Cruz, 14, attended nearby James A. Garfield Senior High School. It was unclear why he was at the junior high or what led to the fatal incident.
The 13-year-old was not identified in a press release by the Los Angeles County Sheriff's Department, which stated he was arrested around 1:30 a.m. at his Los Angeles home, transported to an East L.A. sheriff's station and booked for murder.
Scissors were used to kill Cruz, according to Los Angeles Unified School District's Monica Carrazo.
The weapon used has not been located, LASD stated.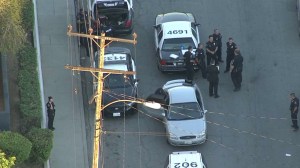 The vicious attack occurred as school was letting out, and about 100 students and faculty who remained at the campus for after-school programs were kept on lock down for several hours as officials investigated.
Police said a number of students and school staff witnessed the incident and were interviewed.
Anyone with information was asked to contacted LASD's Homicide Bureau at 323-890-5500.