This is an archived article and the information in the article may be outdated. Please look at the time stamp on the story to see when it was last updated.
The last time her family saw Leah Kritzer was Sunday afternoon as she set out to take her dog, Popeye, for a walk in Manhattan Beach.
Two hours later the 14-year-old's parents said they received a call from a woman who said she found Popeye wandering by himself.
"So went out to see her and there was our dog with the leash on and our daughter wasn't there and she hasn't come home since," father Joe Kritzer said.
On Tuesday, the teenager's parents discovered that Leah had been secretly posing as a 19-year-old woman in online chat rooms.
New: Missing Girl Found in San Diego
They made the discovery after calling an unfamiliar number they found on Leah's cell phone.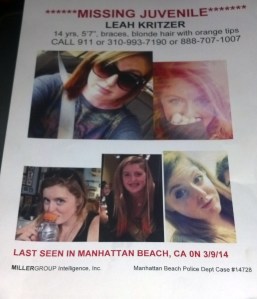 A 19-year-old man who answered the phone told the Kritzers that he met up with Leah in Hermosa Beach a few weeks ago but realized right away she was much younger than her profile stated and left, her parents said.
Her parents feared that on Sunday she might have met up with another man who wasn't so nice.
Leah was described as 5 foot 7 inches tall with braces and blond hair with orange tips.
Anyone with information was urged to call Manhattan Beach Police at 310-802-5140.