This is an archived article and the information in the article may be outdated. Please look at the time stamp on the story to see when it was last updated.
VICTORVILLE, Calif. (KTLA) — More than a dozen arrests were made in Victorville on Wednesday at a protest against the George Zimmerman verdict, authorities said.
A total of 17 people were taken into custody, according to Cindy Bachman, a spokeswoman for the San Bernardino County Sheriff's Department.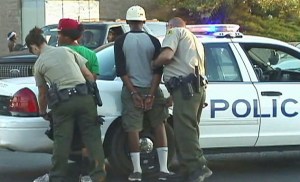 Eight of those arrested were juveniles, Bachman said.
Nearly 80 people showed up for a rally and march at the Victor Valley Mall that continued eastbound on Bear Valley Road.
Most of the demonstrators were peaceful and obeyed the law, according to Bachman.
There was a report of 10-15 juveniles going into a Chevron gas station, opening items and leaving without paying, she said.
After the march, a large group gathered in the mall parking lot and tried to enter the shopping center, Bachman said.
Mall security locked the doors and no one got inside.
Deputies ordered the crowd to disperse, and most left without incident, Bachman said. Those who did not disperse were arrested
There were no reports of any injuries or damage.