This is an archived article and the information in the article may be outdated. Please look at the time stamp on the story to see when it was last updated.
Eighteen people were arrested Friday morning for allegedly sailing a panga boat filled with narcotics up to the shoreline of a Santa Barbara beach.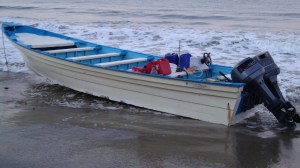 A group of California National Guard members witnessed approximately 19 people unloading bales of suspected drugs off a small boat at Arroyo Quemada beach, the Santa Barbara County Sheriff's Office said in a news release Friday.
Numerous law enforcement groups responded to the scene, including a county sheriff's narcotics team and personnel from U.S. Immigration and Customs Homeland Security Investigations. More than 2,000 pounds of marijuana were seized.
The people aboard the boat took off running in different directions, authorities said. Fourteen of them were quickly found in nearby bushes, and another four were discovered hiding in the Arroyo Quemada area later that morning.
HSI officials also stopped a truck in Camarillo that they believed to be associated with the panga incident, but the passengers fled the vehicle when stopped.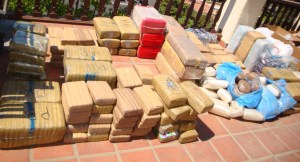 "Marijuana bales and other evidence linked to the panga" were found inside the truck, the Santa Barbara County Sheriff's Office said in the news release.
"Today's enforcement action should send a strong message to the criminal organizations in Mexico responsible for these incidents in Southern California that we've got them in our cross-hairs," said David Wales, assistant special agent in charge of HSI Ventura, on Friday.
This marks Santa Barbara's 10th panga incident since October 2012, nine of which involved illegal drugs and two of which involved human smuggling, according to the news release.