This is an archived article and the information in the article may be outdated. Please look at the time stamp on the story to see when it was last updated.
YARNELL, Ariz. (KTLA) — Kevin Woyjeck, of Seal Beach, Billy Warneke and Chris MacKenzie, both of Hemet, were identified Monday as three of the 19 firefighters killed battling the Yarnell Hill brush fire outside Prescott, Ariz.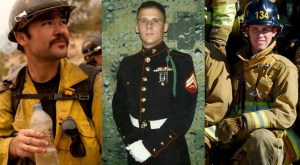 Woyjeck, Warneke and MacKenzie were part of the Granite Mountain Hotshots, an elite squad who confronted wildfires up close.
"Our entire crew was lost," Prescott Fire Chief Dan Fraijo told reporters Sunday night.
"We just lost 19 of some of the finest people you'll ever meet. Right now, we're in crisis."
The other firefighters killed in Yarnell were Anthony Rose, 23; Eric Marsh, 43; Robert Caldwell, 23; Clayton Whitted , 28; Dustin Deford, 24; Sean Misner, 26; Garret Zuppiger, 27; Travis Carter, 31; Grant McKee, 21; Travis Turbyfill, 27; Jesse Steed, 36; Wade Parker, 22; Joe Thurston, 32; John Percin, 24; Scott Norris, 28; and Andrew Ashcraft, 29.
The death toll among firefighters battling a brush fire was the largest since 1933, when 25 were killed fighting a fire in Griffith Park.
Woyjeck, the son of veteran L.A. County Fire Department Capt. Joe Woyjeck, had hoped to become a firefighter in the L.A. area like his dad, according to family members.
The 21-year-old joined the Prescott unit just three months ago.
Woyjeck, an avid outdoors-man, always wanted to be a firefighter like his father, Joe Woyjeck told "Anderson Cooper 360" on Monday evening.
Joe Woyjeck said he last talked to his son by phone on Sunday morning.
"He said, 'Dad, we got a fire in Yarnell, Arizona. I'll give you a call later,'" the elder Woyjeck said.
He said it hasn't sunk in yet that he won't get that phone call.
"Words can't describe the loss that our family is feeling right now," Joe Woyjeck said.
Kevin Woyjeck wasn't the only firefighter's son in the Granite Mountain crew.
Chris MacKenzie, 30, a 2001 graduate of Hemet High, was the son of former Moreno Valley CDF Captain Mike MacKenzie, according to the Press Enterprise.
Billy Warneke, 25, was a four-year Marine Corps veteran who served a tour in Iraq and had joined the hotshot crew in April.
He and his wife, Roxanne, were expecting their first child in December, his grandmother, Nancy Warneke, told the newspaper.
Click here for more information on the Yarnell Hill fire on CNN.com.
How you can help:
The United Phoenix Fire Fighters Association, together with Prescott Fire Fighter's Charities, have established a 501(c)3 relief fund to benefit the families of the fallen killed in the Yarnell Fire. 100% of your tax-deductible donation will go to the families. You can donate at any Chase Bank, in the name of the United Phoenix Fire Fighters Association Account, #987218757.