This is an archived article and the information in the article may be outdated. Please look at the time stamp on the story to see when it was last updated.
Authorities announced arson charges Friday as thousands of firefighters continued to battle multiple fires that were among nearly a dozen that burned more than 25,000 acres and destroyed dozens of structures in San Diego County, authorities said.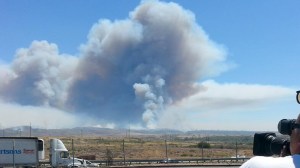 Four days after the 1,500-acre Bernardo Fire broke out southeast of Encinitas, firefighters had extinguished five separate fires despite being hampered by gusty winds, record-breaking heat and low relative humidity.
"Day 4 is a much better day than the preceding days we've seen, but the difficult days for San Diegans are not over," San Diego County Supervisor Dianne Jacob said at a 1:30 p.m. news conference.
Eleven fires have burned in the county, igniting 19,826 acres, she said.
One person was charged with arson in connection with a fire in Oceanside, authorities said at the news conference.
Alberto Serrato was seen adding brush to a fire in the San Luis River bed, according to the county District Attorney Bonnie Dumanis, who said he faced up to seven years in prison.
One person was found dead Thursday evening when firefighters checked on a hot spot in a transient camp in Carlsbad, where the Poinsettia Fire had destroyed eight single-family homes and an 18-unit apartment complex.
Multiple other residences and structures were damaged in Carlsbad, which saw $10 million to $15 million in damage, Jacob said.
The Poinsettia, Highway, Freeway and the River fires were 100 percent contained by Friday morning, according to Cal Fire. The five blazes had burned a total of 945 acres.
The largest of the active blazes, the Pulgas Fire, had charred 15,000 acres as of 9 p.m. and was 40 percent contained after starting on Camp Pendleton at 3:15 p.m. Thursday, the Marine Corps said on its website.
A new fire on base, the San Mateo Fire, was at 800 acres as of 9 p.m., sending black smoke into the air and prompting new evacuation orders, according to the base's Facebook page and its brush fire information site.
Evacuation orders remained in effect after about 1,000 were forced to flee Camps Las Pulgas, Margarita and Las Flores, and 32 Area, a Marine spokesman said. All nonessential personnel on the base were to be released as of noon due to the fires.
Jim Buchanan, a resident of Escondido, described his brush with the fast-moving Cocos Fire, which was burning south of San Marcos.
The fire "hit trees on the next ridge over, then that jumped and went to a brush pile in the middle of the green pasture there. It just exploded," Buchanan said. "It's real. … You just see this big orange ball coming at you. And I thought: My wife told me to be careful. It may be too late. I'm going to get out of here."
Although temperatures were expected to be in the 90s throughout much of the county, improved weather conditions may aid the firefight. A minor cooling trend was forecast to begin on Friday, with low clouds and fog moving inland from the coast throughout the weekend and bringing some drizzle to areas west of the mountains by Monday, according to the National Weather Service.
At the afternoon news conference, Cal Fire San Diego Deputy Chief Kelly Zombro said fire officials were worried that the Cocos Fire could push to the south, but said the wind was in firefighters' favor.
Evacuation orders remained in effect for most areas affected by the Cocos Fire.
I know everybody is very concerned about repopulating the areas that have been evacuated," said Sheriff Bill Gore. "There's a very specific protocol that we go through, especially when there's been structural damage like we had in San Marcos."
On Thursday evening, Escondido police announced the arrest of two teenagers on arson-related charges.
Isaiah Silva, 19, and an unidentified 17-year-old, both of Escondido, were taken into custody shortly after 7:25 p.m., according to the Escondido Police Department.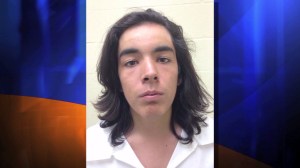 The pair were arrested after a witness reported seeing two people start a small brush fire and attempt to start another, the Police Department said in a news release. It was unclear if the suspects were involved in any of the larger fires in the area.
The city of San Diego issued a statement encouraging anyone with information regarding the fires to contact Crime Stoppers at 619-235-8477.
A multiagency arson task force — including the San Diego Fire-Rescue Department, Cal Fire, the San Diego Sheriff's Department, San Diego Police Department Oceanside Fire Department, ATF and FBI — was working to determine the cause of the fires in an ongoing investigation, according to the statement.
Dozens of homes and apartment buildings have burned since the fires began Tuesday.
Nearly 31 square miles of San Diego County had burned by Friday morning.
Pulgas Fire
This blaze exploded in size overnight after being reported late Thursday afternoon. By Friday evening, it was 15,000 acres and 40 percent contained, according to Cal Fire.
It was burning in rolling brush-covered hills off the 5 Freeway on Camp Pendleton near Las Pulgas Road (map), sending a towering cloud of smoke into the air. The area burning was in an empty "buffer zone" with few structures, Lt. Ryan Finnegan, a Marine spokesman for Camp Pendleton.
Along with the Tomahawk Fire, also burning on the Marine Corps base, the Pulgas Fire prompted evacuation orders and the release of nonessential base personnel. The Las Pulgas Gate into the base was closed.
No structures were damaged in the Pulgas Fire. One firefighter received injuries due to heat exhaustion, a base spokesman said.
Tomahawk Fire
The Tomahawk Fire was 6,500 acres and 65 percent contained on Friday.
It began Wednesday morning at the Naval Weapons Station in Fallbrook (map) and traveled into Camp Pendleton, according to Cal Fire.
Cocos Fire
Three homes were destroyed in the San Marcos area after the Cocos Fire broke out Wednesday afternoon (map).
By Friday morning, it had burned 3,018 acres and was 10 percent contained, according to Cal Fire.
Some 1,000 firefighters were working on the blaze, along with aerial support. Strong winds were fueling active burning Friday, according to Cal Fire.
Bernardo Fire
The first of the major fires that have plagued San Diego County this week, the Bernardo Fire broke out about 11 a.m. Tuesday southwest of the community of Rancho Bernardo (map).
The blaze was sparked during work on a construction site, a multiagency arson team announced.
After a trench was dug and then covered by a backhoe, the crew moved on to a new location and then noticed smoke and flames from the area where they had been working. Flames spread rapidly out of control, the San Diego City Metro Arson Strike Team announced Friday afternoon.
By Friday, the Bernardo Fire was 1,548 acres and 90 percent contained. Fifty structures remained threatened, according to Cal Fire.
About 210 fire personnel were working the fire Friday.
KTLA's Melissa Pamer and Ashley Soley-Cerro contributed to this article.
[protected-iframe id="ddf3c61f9cacd501f60eed2cc31f4c53-41641936-52137988″ info="https://maps.google.com/maps/ms?ie=UTF8&hl=en&msa=0&msid=208523333872813891131.0004c02beb4f2788337d0&source=embed&t=m&ll=33.184686,-117.305145&spn=0.551673,0.878906&z=10&output=embed" width="640″ height="480″ frameborder="0″ scrolling="no"]